Monday, October 5th, 2009
Servants Day deemed a success
Hundred volunteer their time to help local needy
By Shelley Grieshop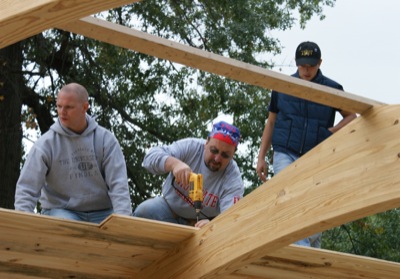 When Holly Miller lost her job last month and her husband's hours were cut at work, she gave up her dream of replacing the family's shower with a bathtub.
The mother of two suffers from fibromyalgia, a painful disease that attacks the muscles and causes extreme fatigue. She longed to soak in a tub for temporary relief from the agony, she explains.
"There's no real medication to make the pain go away," she adds.
Then last week, the couple and their two daughters got a surprise visit from local community leaders and volunteers with Community Servants Day who wanted to fulfill her wish.
"I was speechless," Holly Miller says. "We were just blown away."
On Saturday, a group of dedicated workers converged on the home on Sunset Street in Celina with a brand new tub in tow. Because the one-piece bathtub was wider than the Miller's hallway, the volunteers had to open the home from the outside to install it.
Miraculously, by evening the family was able to take turns relaxing in the fiberglass tub.
Millers' house was one of 31 sites across the Celina area where more than 300 Servants Day volunteers worked Saturday for the first-time ever program to help those in need. The "Walk the Talk" projects included painting homes inside and out, rebuilding porches, constructing ramps for handicap residents, patching and repairing roofs and siding, building a park shelterhouse and clearing out overgrown weeds.
"One lady told us it looked like an army arrived at her house," says the Rev. Rich Field, one of the organizers. "She was so impressed."
Some of the families who benefited vowed to help others during the next Servants Day in 2010.
Nearly all the projects were completed by the end of the day, which culminated with a spaghetti dinner for volunteers at St. John Lutheran Church in Celina.
Carl Porter and a group of men and women braved the chilly temperatures to spruce up the outside of a home on Echo Street. Within hours, the group had scraped the two-story structure and given it a facelift with a warm hue of blue.
When asked what brought them out on such a cold morning, each had the same reply: "God."
"That's why I'm here," Bruce Cyphers said.
"That's a good answer," replied Donna Heyne from a ladder above Cyphers.
It wasn't difficult to spot the crews across the city. Homes targeted for work had "Walk the Talk" signs posted out front. In the 500 block of Ash Street volunteers were busy painting the interior and exterior of a home.
"This gives me a chance to help others and make a difference for Jesus," said Becky Stroth as she carefully applied a beige coat of paint to the top of a living room wall. The homeowner - an older woman who lives alone - had few resources for such a project, she said.
Ron Hoying, another team member working at the Ash Street site, said some volunteers brought their children to lend a hand and gain a valuable lesson.
"What better way to show them how to help their neighbor for the glory of God," Hoying said.
The teams at each site were a diverse group from all walks of life. Most didn't know each other until that day, Field says.
"That was by design," he says, explaining another goal was to unite church members from various denominations in the area.
The event accomplished much more than organizers had expected. Despite the hard economic times, the spirit of fellowship was everywhere, Field says.
"If you can get out from under your own problems by helping others, you find yourself on your way to true happiness," he says.
Organizers are contemplating whether to attempt a Servants Day in the spring. If not, there certainly will be another by fall, Field says.
"We pray we'll have double the people and double the projects next year," he adds.
The cost for project supplies came from donations and an account held by the St. John Builders, a group that performs construction work for needy people in the area and across the country. Anyone interested in helping defer expenses for future Servants Day projects can send donations to: Serving Friends and Families Ministries, 1978 Havemann Road, #105, Celina, OH 45822.