Friday, October 9th, 2009
Minster sweeps the team races
By Gary R. Rasberry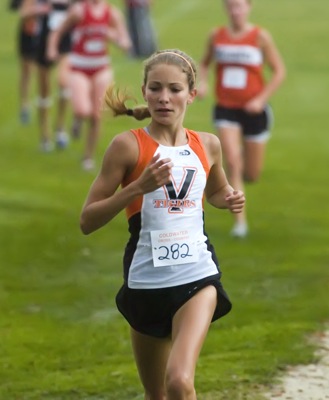 COLDWATER - The annual Gene Weber Lions Cross Country Invitational, due to its timing and location, is usually a good indicator of how the Midwest Athletic Conference, held a week later on the Coldwater course, could shape up.
If Thursday has any bearing, it shapes up to be a dandy.
Minster swept the high school boys and girls team titles on a rainy evening, with both matches fairly close.
The Wildcat girls scored 39 points, 21 points ahead of host Coldwater. Versailles was fourth behind Western Buckeye League contender Van Wert. Fort Recovery took eighth and Marion Local ninth in the standings.
In the boys matchup, things were tighter still, as the Wildcats edged St. Henry, 74-84, for the team win. Coldwater was third with defending MAC champ New Bremen fourth. New Knoxville (seventh) and Versailles (eighth) rounded out the MAC top 10.
"It was a tight battle," said Minster boys coach Larry Topp. "We thought we were making some strides and our kids ran very well today. Obviously, St. Henry is making the same strides we're making. It's still tight between us and them and with the league meet coming up next week, it will be pretty interesting."
St. Henry skipper Mike Eyink concurs.
"Oh yeah, we knew it was going to be tight," said Eyink, whose team will be fighting for its first MAC title. "We've been racing Minster for years. That's how it is. MAC showed well again at the Lions meet. It will be interesting to see how our guys respond."
Versailles freshman Samuel Prakel dominated the field in winning the race in 16:33.30. New Bremen's Justin Eilerman was second with Coldwater's Mike Seas third and Minster's Francis Slonkosky fourth. Shawnee's Garrett Diltz, the first non-MAC runner, placed fifth and St. Henry's Dillan Schulze edged out Minster's Oliver Barga for sixth. Coldwater's Alex Gray finished in ninth place.
The Minster girls, looking to win their 25th MAC title - out of 28 total races - battled the rain and came up with some solid results.
"It was wonderfully disastrous weather," said Minster girls coach Jessie Magoto. "I was really happy how the girls ran, though. They really got out there and ran strong.
"I was really looking forward to this race. ... It's really a great meet to see all those teams in action."
Versailles' Tammy Berger posted the win in the race, coming in at 18:43.70. Jessica Albers was the first Minster runner in, taking third, just ahead of Coldwater's Veronica Bruns. Maria Dahlinghaus and Hannah Butler took sixth and seventh for the Wildcats before Alyssa Brunswick took eighth for Coldwater. Samantha Hoelscher took ninth for Minster with Natalie Grilliot of Versailles completing the top 10.
Troy swept the junior high team titles. Coldwater's Sarah Kanney took the race win in the junior high girls' two-miler.