Tuesday, October 13th, 2009
Hopewell Dairy in bankruptcy
Officials trying to reorganize business, keep it operating
By Nancy Allen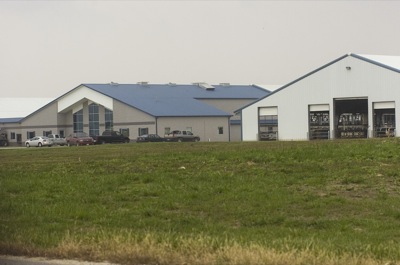 Bankruptcy proceedings have begun for two mega dairies with Dutch ties - Hopewell Dairy, a 2,100-head dairy near Rockford, and Chesterfield Dairy, located near the town of Lyons.
Both have been placed into receivership by a bankruptcy judge, according to documents filed in the U.S. Bankruptcy Court, Northern District of Ohio, Toledo. Receivership is a form of bankruptcy in which a company can avoid liquidation by reorganizing with the help of a court-appointed trustee.
Judge James G. Carr appointed Wisconsin firm Roach & Associates to take over operation of both dairies.
The court action came on the heels of a lawsuit against both dairies filed in late September by AgStar Financial Services, Minnesota, involving default on commercial loans the dairies have with AgStar.
According to the bankruptcy court, Hopewell Dairy owes almost $21.4 million to various creditors, including AgStar, which is seeking foreclosure on both dairies. Chesterfield Dairy owes $8.5 million.
Vreba-Hoff Dairy Development, a U.S. firm with Dutch ties, has served as a consultant and developer for both dairies, which are family-owned limited liability companies.
Vreda-Hoff spokeswoman Cecelia Conway said Hopewell Dairy continues to operate, though with slightly less than the original 2,100 cows it had. The dairy employs about 22 full-time people.
Despite the current financial situation, Conway said it is Hopewell Dairy's intention to reorganize with the aid of the bankruptcy court and receivership.
"The dairy continues operating," she said. "The bank has a consultant operating the facility and the employees are being paid from the cash flow of the facility."
Conway said the cause of Hopewell Dairy's current financial situation is record low milk prices and high feed costs that have plagued the entire dairy industry for the past year or more. Dairies across the U.S. have ceased operations and thousands of dairy cattle have been sent to slaughter in an attempt to shed cows.
"Basically the entire industry is hurting and Hopewell is a product of that," Conway said. "There's very, very bad milk prices industry wide and most farmers are basically producing milk at a loss."
Construction of the dairy began in 2005 and milking started in April 2007. Prior to that, many neighbors objected to the large dairy being built on Tama Road. Public meetings and hearings were held on the matter before the Ohio Department of Agriculture ultimately granted the necessary permits for the farm to begin operating.
Just in the last few months, the Mercer County Engineer's office and three northern townships agreed to share a $755,000 debt that resulted from an accounting error made years ago involving the dairy. In late 2005 county officials established a Tax Increment Finance (TIF) district to pay off a 10-year loan for roadwork that was needed to handle increased truck traffic in the area.
The TIF was projected to generate about $136,000 annually, but only drew $36,484 the first half of this year (the first year of collection). The error was due to Vreba-Hoff overestimating permanent improvements at $8.4 million, when the improvements actually totaled only about $3 million, county officials said.
The debt is now being paid by Hopewell Township, $35,509; Blackcreek Township, $40,797; Liberty Township, $51,374; and the county engineer's office, $627,830.