Friday, October 16th, 2009
Bulldogs capture WBL crown
Celina wins league title for 23rd time
By Ryan Hines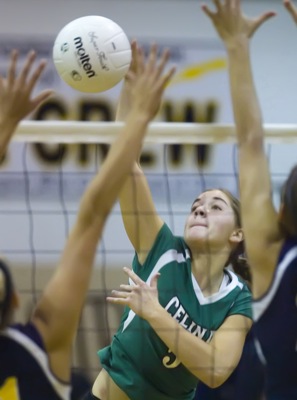 OTTAWA - It has been a highly successful fall sports season for Celina girls sports.
The Celina tennis and girls soccer teams already captured Western Buckeye League titles with perfect regular-season records and now the volleyball team has done the same with another dominating performance by the Bulldogs.
Celina cruised past Ottawa-Glandorf 25-12, 25-18 and 25-13 on Thursday to win the WBL championship for the second straight season and for the 23rd time in school history. The Bulldogs also finished the season without losing a single game to a WBL opponent for the second straight year.
"The girls accomplished a couple of their goals tonight by winning the league title and by beating all the league opponents in three games," said Celina head coach Carolyn Dammeyer. "The girls showed that they were the dominant team in the league this year by playing a great game tonight with the league title on the line. It's a great feeling."
Celina finishes the regular season with a record of 17-5 overall and 9-0 in the WBL while Ottawa-Glandorf falls to 14-7 on the season and 8-1 in the WBL.
Finishing the season with a league championship, and doing so in three games, was exactly the type of performance that senior co-captain Cenzie Yoder was hoping to see from the team.
"It's an amazing feeling to finish the league season the way that we did tonight with winning the league title and winning all the league matches in three games," said Yoder, who led the Bulldogs with 12 kills, five blocks and five aces against Ottawa-Glandorf. "It's the perfect ending to the season, especially doing it two years in a row. Now we need to carry it into the tournament."
"I think that we really wanted to win it bad, especially the seniors, and it showed in our play tonight," said Celina senior co-captain Maria Dorsten, who contributed seven kills and 25 assists in the Bulldogs' win over O-G.
Yoder and Dorsten were just a couple of the Bulldogs that O-G had trouble containing as Celina's balance was on full display.
Julie Klosterman returned after a one-game hiatus due to the flu and had eight kills, 20 digs and four aces. Kelsey Mastin had six kills and three blocks and Erin Dorsten added five kills, five blocks and six aces.
Meagan Stoker led the Celina defense with 22 digs while Angie Fisher was strong at setter with 22 assists while adding three aces.
"The balance is something that we've had all season long," said Dammeyer. "It really puts the defense in a tough spot when a team has multiple weapons to go to. We don't rely on one or two girls to get the job done, we need the whole team to do their part for us to be successful and that has been the key for us."
Ottawa-Glandorf head coach Ann Ellerbrock was impressed with what she saw out of Celina.
"This is one of the best teams that I have seen from Celina," said Ellerbrock. "They have good hitters at all positions, a great defense and good setters with aggressive servers. They really don't have any weaknesses. They are very good and very deep."
Ottawa-Glandorf was supposed to be a dangerous opponent for Celina as the Titans had lost just one game in WBL matches this season, but the Bulldogs rolled to the victory.
Celina jumped out in front 5-0 in game one but O-G rallied back to trail 10-9 midway through the match. The Bulldogs then scored 12 of the next 13 points in the game, behind the aggressive serving of Klosterman and Erin Dorsten, to take a commanding 22-10 advantage.
In game two, the lead switched hands five times and Celina was clinging to a 19-18 lead late in the game. Yoder then stepped to the service line and had two aces during a six-point run to close out game two with a seven-point victory.
O-G started in front 1-0 in game three, but it was all Celina after that point. Erin Dorsten went on a six-point service run with a pair of aces to push the Bulldogs in front 14-5.
Celina then used balance to close out game three as Mastin, Yoder, Maria Dorsten, Erin Dorsten and Klosterman all registered kills to polish off O-G in three games.
"I think that since we got off to a great start that it really carried over to the other games," said Maria Dorsten. "We got off on the right foot and it gave us confidence that we could get this win on the road."