Saturday, October 17th, 2009
Halfback pass wins it for St. John's
Blue Jays' winning score comes with just 10 seconds left
By Gary R. Rasberry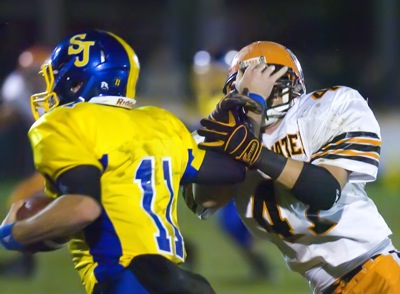 DELPHOS - In a battle between the irresistible force and the immovable object, it takes something out of the ordinary to decide the outcome.
For 47 minutes and 50 seconds, Coldwater and St. John's duked it out to a draw.
It took a halfback pass to decide it.
Jordan Leininger's 28-yard pass to Tanner Calvelage gave the Blue Jays the last hurrah in taking over sole possession of first place in the Midwest Athletic Conference with a 27-20 win over the Cavaliers in a battle of top-ranked unbeatens at Stadium Park in Delphos.
"It was huge. Huge!" said Leininger. "That game there was bigger to me personally than state last year (St. John's beat Hopewell-Loudon 34-14 in the Division VI title game)."
The Blue Jays, the top-ranked team in Division VI, improves to 8-0 overall and 6-0 in the MAC, getting their first win over Coldwater since 2001. The Cavaliers, top-ranked in Division V, see a 25-game regular season winning streak snapped to go to 7-1 on the year and 5-1 in the MAC.
"When you have two big teams like that, it comes down to a big play at the end," said St. John's coach Todd Schulte. "Our kids were able to make that play."
The score with 10 seconds left in the game was the only time Coldwater allowed St. John's points in the second half after the Blue Jays scored 14 in the second quarter to take a 20-13 lead at halftime. Quarterback Wes Ulm, known more for his ability to run, hurt the Cavaliers early with his passing, hitting Tyler Bergfeld for a 38-yard scoring to start the night, then in the second quarter found Leininger for a 41-yard score. Ulm also added a nine-yard running touchdown.
But in the second half, the Cavalier defense stiffened their back and forced the Blue Jays into three straight three-and-outs.
"Second half, they took us right out of the game offensively," said Schulte. "We couldn't do anything. We had some missed opportunities that we didn't capitalize. We couldn't move the ball. Give the credit to (Coldwater). Lot a credit to our guys though, they stuck in there. It was like a heavyweight fight. Two heavyweights back and forth."
Coldwater's defense gave the offense time to iron things out. Quarterback Keith Wenning worked a nine-play drive on the Cavs' second drive of the second half, finding Colin Paynter and Reese Klenke on pass plays to keep the chains moving. Wenning then took the final 18 yards himself with a run to tie the game at 20-all with 7:21 left in the third quarter.
Meanwhile, the Cavalier defense continued to keep the Blue Jays away from the end zone, despite several big kickoff returns that allowed St. John's to start in Cavalier territory.
"When you play against a really good team like that, you cannot make mistakes and give up field position," said Coldwater coach John Reed. "I think the kickoff returns were as big a part of the football game (St. John's averaged 30.3 yards on kickoff returns) as anything. Most people won't pay attention to that, but when you get field position like that. Even if you stop them like we did, it makes a long field for you to go."
The Blue Jays got the ball back with 1:57 to go after Coldwater went four-and-out on the Blue Jay 35. Leininger and Ulm picked up most of the yards with runs. WIth a second-and-five from the Blue Jay 28, Ulm looked for Steven Metcalfe toward the end zone, but the Cavaliers covered up, stopping the clock with 19 seconds left.
On third-and-five, Ulm handed off to Leininger, who was looking for a potential pass to Bergfeld, who was covered. Just when it looked like he would tuck the ball and run, Leininger fired a pass to the open Calvelage at the eight-yard line. Calvelage then sprinted to the end zone with 10 seconds left to put the Blue Jays in front. Josh Rode booted the PAT to make it a seven-point game.
"It was supposed to be designed for the tight end, hoping the safety bit," said Leininger, who had played quarterback into his freshman season. "Safety didn't bite, so I was supposed to run it to the right. Tanner was just sitting there and I decided to give it a throw. Luckily, he caught and put it in."
"Those 25 seconds and down to 13 seconds, those travel awfully fast," said Schulte. "We were hoping to give ourselves a chance for at least a field goal. Great catch and run by Tanner."
Rode kicked the ball deep to Coldwater and its last-second hook-and-lateral play did not produce, sending the Blue Jays into a frenzy.
"This has to be one of the bigger (wins) around here, at least in the last 11 years I've been around here," said Schulte.
"They're an outstanding team, no question about it," said Reed. "By far, the best team we've played. I don't imagine we'll play too many that will be better than that."
Leininger finished with 106 yards rushing and 44 yards receiving to go with the touchdown pass. Ulm was 7-of-14 passing for 125 yards and two scores.
The loss spoiled a strong night for Wenning as the Cavaliers' senior quarterback was 25-of-37 for 350 yards passing and added 103 yards rushing.
Klenke finished with eight catches for 134 yards and a score while Adam Rammel added seven catches for 82 yards.
St. John's heads to Mercer County on Friday for a chance to clinch at least a share of its first MAC title since 2000 in facing St. Henry. Coldwater is back at Cavalier Stadium to face the Minster Wildcats.