Thursday, October 29th, 2009
'Deadliest Catch' comes to Rotary
By Janie Southard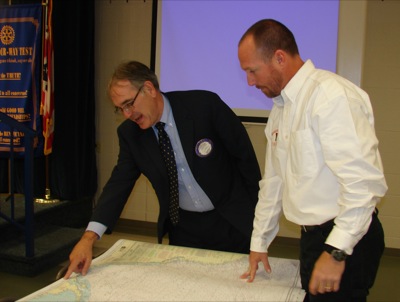 ST. MARYS - Seattle native and Auglaize County resident Marc Dyrness knows all about commercial fishing in Alaska from an upfront position on one of the boats featured on the show "Deadliest Catch."
Speaking to St. Marys Rotarians on Wednesday, the current property manager at the Wapakoneta YMCA told of his five years in commercial fishing on his friend John Skaar's boat, the North American. The boat has been filmed for the Discovery Channel's "Deadliest Catch."
"The fishing used to be done on a derby-type arrangement and there would be upwards of 200 boats going out. Now it's done by quota, which gives the larger fleets (maybe eight boats) an advantage ... Typically, for crabbing, they stay out 21/2 months," Dyrness said, adding the boats' catches are contracted out and they are held to that contract.
Most of the crabs are exported to Japan (80 percent), with 85 percent of the entire commercial seafood fishing industry also going to Japan.
Dyrness told of fishing Russian waters and the Aleutian Chain, which is a chain of more than 300 islands in the northern Pacific.
"I left fishing after I lost 15 worker-friends. One guy went down with the boat while on a trip I wasn't on. Another was ripped in half by a deck cable. And another guy was killed in a bar fight," he said.
Dyrness did stay with the seafood industry but not on the boats.
It's a lucrative line of work bringing in about $40,000 for a few weeks' work to even the deckhands.
"And there's always work there. College kids come up in the summer and take home several thousand dollars," he said.
What about the camera crews from the Discovery Channel?
"They are mostly in chaser boats. The camera guys on deck are good about staying out of the way and they know how to handle the situation," he said. "The boat captains aren't always happy because every time you turn around there's a camera in your face and it becomes another guy to worry about."
Contrary to what the public tends to believe, the captains and crews don't get paid a lot from television.
"Not in money. But a lot of these guys have their own Web site and sell T-shirts and that type thing. I guess you could say the money's in stardom," he said.
What about medical personnel on board? Actually there is none per se. There are defibrillators on board.
"But the medical help comes from the coast guard and the time elapsed before they can get there depends on where they are when they get the call," he said.
It's called "Deadliest Catch" for a reason: Commercial fishing is one of the highest-risk industries for work-related fatalities, according to Washington state's Fatality Assessment & Control Evaluation. During the eight-year period ending in 2006, there were 21 reported fatalities, 19 of which were drownings. Crabbing and salmon fishing were the two most frequent fisheries with fatalities.