Saturday, October 31st, 2009
Flyers bully Rockets with running game
By Randy Bruns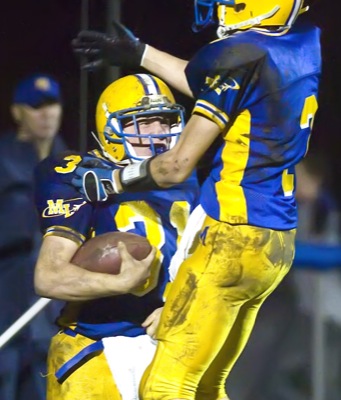 MARIA STEIN - Fans of the Marion Local Flyers had been waiting for a signature victory all season long, but now the long wait is over and it means more football for the Blue and Gold.
The Flyers ran roughshod over a normally stout Anna Rockets defense on Friday night at Booster Stadium, racking up 364 rushing yards en route to a 28-21 victory. The win punches the Flyers' ticket to the playoffs for the 10th time in coach Tim Goodwin's 11 seasons at the helm.
Marion, which had lost five straight at one point this year, finishes the regular season at 5-5 and boosts its Midwest Athletic Conference ledger to 3-5. Though the final matchups are unofficial until Sunday, it appears the Flyers will travel to face Sidney Lehman on Saturday in a Division VI playoff opener.
Anna drops to 8-2 overall with the loss, and its 6-2 league slate means it will finish third in the MAC race. The Rockets look like they will make the trip to Columbus next Friday to take on Bishop Ready in the opening round of the Division V playoffs.
The Flyers came into this one believing that they would need a near perfect game to knock off the Rockets, but the early action indicated that it might be more of a nightmare for the hosts. On the game's opening possession a Flyer fumble was returned 36 yards by Charles Williams for a Rocket score, and the visitors had the early momentum.
Marion got aggressive late in the first quarter and went for it on a fourth-and-one from its own 29-yard line, but the Anna defense stuffed the run. Two plays later, Wes Hunsucker found Derek Billing in stride for a 29-yard scoring strike, and Marion was in a 14-0 hole early on.
The Flyers stuck to their ground strategy and it quickly paid dividends on the ensuing drive, as the offensive line began blowing big holes in the Rockets' defense. After five runs moved the ball 56 yards, Jarren Griesdorn hit a wide open Adam Schulze for the Flyers' first score, and after Mitch Bergman's extra point, the hosts were down by just seven.
Marion's defense then got into the act when Greg Schwieterman caused a fumble while sacking Hunsucker, and the junior then jumped on the loose pigskin to give his offense great field position. It didn't take long for the hosts to cash in, as a seven-play, all rushes, drive dented paydirt with Niles Keller going five yards for the tying score.
The second half started with the Flyers getting a nice advantage from the wind at their backs, but as it turns out, they didn't really need it, at least on offense. The hosts scored twice in the quarter in just over one minute of game action, as Heitkamp busted up the middle for a 38-yard touchdown tote and Keller followed on the next drive with a 73-yard gallop that put the Flyers up by 14.
The Rockets countered with a time-consuming drive of their own and pulled within seven after Kameron Knight scored from five-yards out early in the fourth quarter. As it turned out, the visitors would only get one more crack on offense but that drive ended quickly with a punt.
Marion got the ball with just over seven minutes left in the game and its rushing attack absolutely took over. A key fake punt on a fourth-and-four in its own territory kept the drive alive, with Ryan Mescher taking the direct snap and rumbling six yards for a first down. From there it was a steady dose of Keller and Heitkamp, and the two running backs salted the game away by bulling for three more first downs that ran out the clock.
"We played like we could've been playing all year long," said Goodwin after the game. "We knew we had to play our best game of the year, and we still gave them 14 points in the first quarter, but we did put three quarters of decent football together."
Keller finished with a career-high 238 yard on 26 carries, and Heitkamp chipped in with 77 yards on just nine attempts.
"That was our game plan because that was our best matchup," explained Goodwin of the Flyers' inside the tackles rushing prowess. "(Anna's) strength was speed and skill on the perimeter, both offensively and defensively. Football isn't always about who is better, but how you match up with your opponent."
Leading the way for Marion's ground game was an offensive line that hadn't distinguished itself up to this point in the year, but senior center Shawn Eilerman and his fellow sodbusters put on a dominant performance on this night.
"We played with a lot of passion, we flew around, and we hit," said Eilerman. "Those are the three things we haven't done in the same game all season, but we put it all together tonight and it paid off."
Anna coach Brian Rioch was succinct in his assessment of the game.
"People that weren't expecting that (result) don't know Marion Local football very well," stated Rioch. "That game played out like I thought it could, because they were obviously very motivated and our kids apparently didn't feel like it was that big of a deal. I thought we got outplayed and outcoached - it's that simple."