Tuesday, October 6th, 2009
Early goal hurts Celina in loss to Elida
By Gary R. Rasberry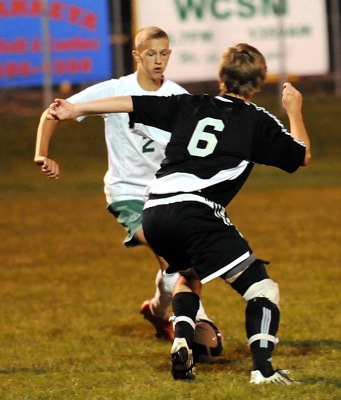 An early offensive blast by Elida put Celina down early, allowing Elida to win a battle of Bulldogs 3-1 in Western Buckeye League boys soccer action on Monday evening at the Soccer Stadium.
The win moves Elida to 6-1 in WBL match play and 9-2-1 overall. Celina drops to 4-3 in league fixtures and goes to 6-6 overall.
Elida took advantage of getting four corner kicks in a span of two minutes early in the first half. After Celina knocked away the first three tries, the fourth paid off as Trey Bowman got the ball inside to Zach Evans, who put a header past Jacob Frysinger with 37:14 left in the half to make it 1-0.
"We always talk about set pieces (plays)," said Celina coach Ryan Jenkins. "To give them four straight in a row, they knock one in and we had to play from behind. That was just a rough start, but we battled through it."
Celina was able to rachet things up defensively for the rest of the half, but Elida got another goal with 21:32 left when Seth Bernfield took a pass from Cody Sanderson and put it away to allow Elida a 2-0 halftime lead.
"We broke down early, fixed some things. Started stepping toward the ball and clearing it out of danger," said Jenkins. "We played much better."
After getting just three shots on goal in the first half, Celina worked to get more chances in the second half. With 211/2 minutes left, Chad Brooks found himself a perfect opening and put a kick past Elida keeper Brandon Good to cut the lead to 2-1.
The goal, however, would turn out to be just a consolation goal, as Sanderson headed a pass from Josh Camper past Frysinger with 8:13 remaining in the match to make it a two-goal game.
"We got a goal to make it 2-1. We had some good looks," said Jenkins. "We let them get one late."
Elida outshot Celina 14-8 on the night. Frysinger had a strong outing, recording nine saves.
In the junior varsity contest, Elida got the evening sweep, edging Celina 2-1.
Celina heads up to Bath on Thursday to face the Wildcats in another WBL contest.