Friday, November 6th, 2009
Bulldogs bounced from tourney play at Ontario
Division II Regional Volleyball at Ontario
By Ryan Hines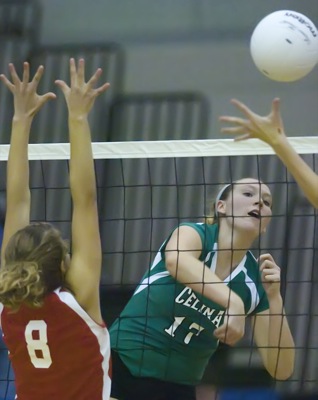 ONTARIO - Playing at the Division II Ontario Regional must feel like the kiss of death for the Celina volleyball team.
For the fourth straight season, a trip to Ontario has ended a successful Celina season as Canal Fulton Northwest (23-3) defeated the Bulldogs in three games on Thursday night in a regional semifinal matchup. The Indians rallied late to win game one 25-23 and then crushed the Bulldogs in the final two games, 25-13 and 25-14.
Reaching regional play for the fourth straight season is an impressive accomplishment, but Celina (21-6) is now 1-4 at Ontario over the last four years.
"There were different scenarios that went through my mind on how this match would end up, and this was the last one," said Canal Fulton Northwest head coach John Rafailedes of the match ending in three games. "I expected a four- or five-game dog fight and I'm just shocked. Once we knew that we could play with this team, I think that our confidence just soared."
Celina didn't look like the team that coasted to a Western Buckeye League title and then ripped through the sectional and district with four dominating performances. The Bulldogs had major issues on serve reception along with lapses on defense, two areas that were considered strengths for Celina all season long.
"I don't know what the answer was tonight," said Celina head coach Carolyn Dammeyer. "We didn't have the fire that we are used to having and we didn't play with the type of enthusiasm that I thought we would. They seemed ready to play but we really struggled on serve receive and couldn't get any momentum going. They did to us what we have done to opponents all year long. We lacked confidence for some reason tonight."
The first game was the only competitive game of the night as it went back-and-forth and featured 12 ties. Canal Fulton Northwest looked to be in control of the match after surging to an 18-12 lead, but the Bulldogs posted a furious rally.
Abbey Zacharias won six straight service points helped by a trio of big kills by Julie Klosterman to tie the score at 18-18. Celina wasn't able to take the lead until Klosterman had a pair of aces to break a 21-21 tie, leaving the Bulldogs two points shy of a win in game one.
Celina then was called for getting into the net on the next point and then a Bulldogs' hitting error left the match tied at 23-23. The Bulldogs' struggles in serve reception took center stage with the match on the line as the Indians' Tricia Harlan served up back-to-back aces to give Canal Fulton Northwest the 25-23 victory.
"They served us tough and we had a hard time with it at crucial moments in the match," said Dammeyer. "They were scoring points off their serve and when they weren't scoring points, we still had trouble trying to run our offense because we struggled so much on serve receive."
Having found Celina's weaknesses in the first game, Canal Fulton Northwest was never really challenged much in the final two games as the Indians' Dakota Harkins took over the match. Harkins, headed to the University of Toledo to play volleyball next year, consistently found the open spots in Celina's defense and had a game-high 16 kills in the match.
Lauren Steiner and Shannon Robson also gave the Indians some balance hitting the ball as the two combined for 15 kills in the match.
The most impressive statistic of the night for the Indians, though, came in serving where Canal Fulton Northwest aced Celina 16 times.
"I think that our serving kept them off balance and didn't allow them to set up their offense all day," said Rafailedes. "They started to get frustrated as the match went on. Volleyball is a game of momentum and things just seemed to snowball for them."
The most frustrating thing for Dammeyer is the fact that her team didn't play up to the potential that it showed throughout the season.
"We have such a great group of girls here and it's a shame to see them go," said Dammeyer. "The hardest part is that we didn't play up to our potential. If we would have been beaten by a better team in a game where we played our best, then fine, I could accept that, but unfortunately we didn't play as well as I know that we can."