Saturday, November 14th, 2009
Cavs beat Rockets in overtime thriller
Division V Regional Semifinal at Wapakoneta
By Gary R. Rasberry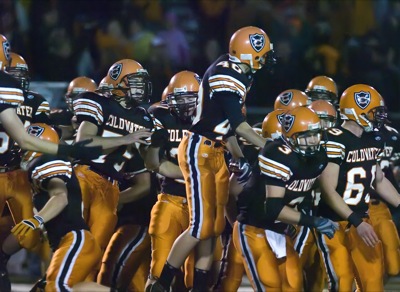 WAPAKONETA - Considering the excitement of the first meeting in Week Five, the anticipation for another dandy between Coldwater and Anna in the Division V playoffs was running high.
The teams responded with a performance that could not be contained to just four quarters.
Both squads traded touchdowns early, then Anna shut down the Cavaliers for the second half and were able to secure a tie to head into overtime.
That's when the Cavaliers dug into their book of tricks, using a double pass on the first possession of overtime to take the lead, then swarmed the Rockets on their overtime possession to escape Harmon Field in Wapakoneta with a 28-21 win in the Region 20 semifinals.
Coldwater (11-1) will have another rematch with a fellow Midwest Athletic Conference team next Friday as St. Henry will be the opponent back at Harmon Field after the Redskins' convincing win over West Liberty-Salem at Piqua. Anna ends its season at 9-3.
"It was definitely two great teams going at it," said Coldwater senior quarterback Keith Wenning. "They're a heckuva team. It was back and forth. It was whoever made the big play in a key situation, that's what it came down to."
"The difference between this game and the last time we played (Coldwater winning 27-13) was that we made plays this time," said Anna coach Bryan Rioch. "Obviously (we) made one less (play) than they did."
The matchup had all the makings of a shootout as Wenning threw and ran his way to set up the first two Coldwater scores, getting touchdowns runs in each of the first two quarters.
Anna quarterback Wes Hunsucker came out throwing early, hooking up with favorite target Derek Billing early and often. That softened up the Cavaliers' defensive line enough to allow Kameron Knight to get several big runs to force the Cavaliers to play honest.
The only thing that prevented Anna from going into the half tied at 14-all was a 94-yard kickoff return from Aaron Rammel with 82 seconds left in the first half to put Coldwater up 21-14.
But from the midway point of the second quarter through the second half, the Anna defense began to clamp down on Coldwater. Hunsucker picked off Wenning's opening pass of the third quarter, setting up a seven-play drive that allowed Hunsucker to punch in a score from a yard out with 8:28 left in the third quarter to tie the game at 21-all.
"That was due to them," said Reed about Anna shutting down Coldwater's offense. "That's Anna credit there. We were doing the same thing, calling the same plays. Anna was doing a great job of playing defense."
"I thought K.C. Needles (Anna's defensive coordinator) had a great game plan. We tweaked it from the last time," said Rioch. "Our kids got comfortable and did a good job executing it."
Both teams punted on their next possessions. On Coldwater's third drive of the half, Wenning was able to move the ball a little better, helped by a pair of Anna penalties, but could only get as close as the Rocket 22-yard line before getting sacked on a fourth-and-14 to turn the ball over.
The Rockets moved quickly, using several big pass plays from Hunsucker to Billing, especially a 38-yard pass that set the Rockets up at the Cavaliers' five-yard line. But on the next play, the Rockets fumbled the ball to give Coldwater possession on the Cavalier 8.
Wenning broke two big running plays to get toward midfield, but Anna held the Cavaliers to three yards on three plays to force a punt. Anna could not move the ball on its next possession and punted away. Coldwater had one last burst before the end of regulation, getting to the Anna 27 before Anna cranked the defense up on back-to-back incompletions to end the half.
Coldwater took the ball first in the overtime and managed just two yards and a false start on the first two plays. On second-and-13 from the 23, Wenning threw a backward pass to Drew Klosterman, who stopped, got set and fired to the opposite side of the field to Wenning, who snagged the ball and headed to the end zone. Troy Otten's PAT made it 28-21.
"We practice that quite a few times," said Wenning, who has been on the throwing end of a couple of those plays over the years. "We were only going to use it if we needed it, and we definitely needed it there. As soon as I threw it (to Klosterman), turned around and seen the field was wide open, I knew it was going to work."
"That's a play we've been working on a long time," said Reed. "That's probably the best it's looked right there. That's a hit or miss play."
Rioch had a feeling that Coldwater would bring that play out sometime in the game.
"I called it." said Rioch. "I knew it was coming. We have seen the double pass. I knew they threw it. I called it, but me knowing it and us stopping it was two different things. That's frustrating, too. That was a good call for them."
Anna took the ball on the 20, but soon went backward. Knight took the first handoff and looked for the jet sweep, but was stopped at the 30 for a loss of 10. Second down saw Hunsucker look for Billing, but Adam Rammel defended well and the ball fell incomplete. On third down, Kurt Westerheide came flying into the Rocket backfield, sacking Hunsucker for a six-yard loss. On fourth-and-26, Hunsucker again tried to get Billing to keep the game going, but Adam Rammel again knocked the ball down to end the game.
"I just want to say that Anna didn't deserve to lose the game," said Reed. "They played like winners. I just can't say enough.
"I don't want to take anything away from our kids. The big fumble recovery down there, couple big stops. We didn't stop them in the first half. Second half we were able to stop them. That was a great high school football game, from the standpoint of effort."
"Our kids played hard. Our defense pitched a shutout for 2 1/2 quarters," said Rioch. "We did everything right. We put ourselves in a position to win, ball inside the five late in the game and didn't come away with points. That's my fault.
"Our kids did everything right and deserved to win. It's unfortunate someone had to lose. They deserved to win. They did everything right. They put themselves in a good position."
Wenning had some struggles passing the ball, going 17-of-27 for 161 yards and an interception, but carried the ball 19 times for 119 yards and two scores.
Hunsucker completes his stellar career at Anna going 21-of-29 for 300 yards and two touchdowns. Billing, who will play basketball at Division II Lake Superior State next season, had 12 catches for 130 yards. Knight finished with 58 yards on 18 carries.