Monday, November 16th, 2009
Flyers three-peat
Marion Local tops Norwalk St. Paul to capture third straight state title
By Gary R. Rasberry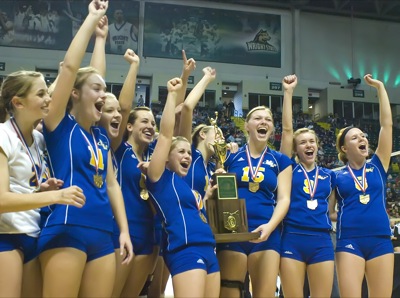 FAIRBORN - The play of the Marion Local Flyers wasn't perfect, but the end result surely was.
The Blue and Bold Flyers won their third straight Division IV state volleyball championship - 25-17, 20-25, 25-10 and 25-13 - over the Norwalk St. Paul Flyers on Saturday afternoon at the Ervin J. Nutter Center on the campus of Wright State University.
Marion Local ends the season at 28-0, the first-ever perfect season for the program, and a third straight state title, becoming the first Division IV program to win three in a row since 2001 when Hopewell-Loudon won the last of five straight titles. Marion is the seventh team to win three or more state volleyball titles in a row.
St. Paul, the last team other than Marion to win the D-IV title back in 2006, ends its season at 25-4, with two of the losses coming via Marion Local.
"It's a great feeling," said senior setter Shelby Moeller. "Winning a state championship is just something you have to experience for yourself. With this year, we added something different by going undefeated."
Marion Local came out blazing, limiting St. Paul to just four points off its serve - points coming while they were serving and not on sideouts - as Marion jumped out to a 23-12 lead. St. Paul could only manage to get as close as seven points at 24-17 before Alyssa Winner scored the final kill to take set one, 25-17.
St. Paul, though, was not ready to concede a Marion Local championship, storming back in the second set as the Blue and Gold had issues with serve receive. St. Paul handed Marion just its fifth loss in a set of the season as the match was squared up at 1-all with a 25-20 St. Paul win.
"Second game we weren't able to pass the ball well," said Marion Local coach Amy Steininger. "I said this all year to the girls, volleyball is a funny game. The fans enjoy to see the big blocks and kills but it comes down to serve and serve receive."
It appeared the loss just made Marion angry, with Stacey Huber possibly the most angry. Marion was already up 7-2 when Huber began to serve. Before she finished, Huber had served up 11 straight points, making the score 18-2. St. Paul had four attack errors to go along with two Ashley Lochtefeld kills and two Huber aces to put the set away, eventually winning 25-10.
"That was a huge run for us in the game," said Steininger of Huber's service run. "She has a real tough serve, a tough knuckleball floater serve. They had trouble passing. We sort of took them out of their offense with Stacey. That's kind of what happened to us in the second game."
The Blue and Gold appeared to knock St. Paul off-kilter in the fourth set, as Marion jumped out to a 7-1 lead. Marion was getting kills from all over the spectrum: Lochtefeld, Margaret Wuebker, Kaylee Schaefer and Winner. It was senior Lochtefeld, appropriately, that got to tally the championship point, scoring on a kill to send Marion into celebratory mode.
"It really can't get any better," said Lochtefeld. "This is what you dream of when you're little and now we're here. Just an awesome feeling."
"Today was another tough match at state," said Steininger. "Norwalk St. Paul definitely played well today. They're the best ball-control team we've played this year. We thought we could control the game at the net and looking at our blocks, that was really good to see."
Winner paced the Flyers with 16 kills to go with 20 digs. Wuebker added 11 kills and nine block assists. Casey Heitkamp was exceptional on net defense, recording 12 block assists as Marion Local outblocked St. Paul 15-4 on the day. Huber had 24 assists to go with Moeller's 19 assists.