Saturday, November 21st, 2009
Cavaliers rally to defeat Redskins in four overtimes
By Gary R. Rasberry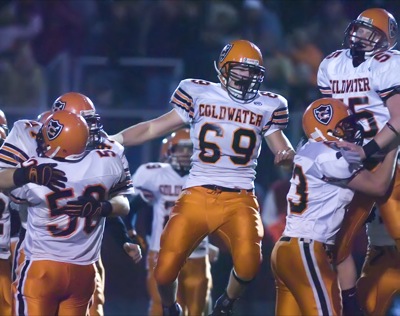 WAPAKONETA - With 1:38 left in the third quarter, things were beginning to look tight for the Coldwater Cavaliers.
Jason Westgerdes snagged a 39-yard touchdown pass to put St. Henry up 21-7 in the Division V Regional Final at Harmon Field in Wapakoneta.
Coldwater, which had gone 21/2 quarters without a score, needed a spark if the Cavaliers wanted to keep their season going.
What happened for the rest of the game will be something that will be remembered for a long time.
The Cavaliers got two fourth-quarter touchdowns to go to overtime for a second straight week, then in the fourth extra session, Coldwater shut down St. Henry and Keith Wenning scored his third rushing touchdown of the game as the Cavalier captured the Region 20 title with a 47-41 win.
"It's so easy to get to a point where you finally say 'I'm willing to lose.'," said Coldwater coach John Reed as his team gathered around the band for the Alma Mater. "But neither team was willing to lose."
Coldwater (12-1), the second-ranked team in the final Associated Press poll, will head to Donnell Stadium in Findlay to face top-ranked and unbeaten Patrick Henry. The Patriots held off Tinora 28-21 in Defiance on Friday. The Redskins, trying to snap a 13-game losing streak to Coldwater, ends the season at 9-4.
The game featured over 800 yards of offense and plenty of breath-taking moments where it looked like the Redskins would get their first win over the Cavaliers since 1996.
St. Henry went with a defensive set that took away much of the Cavalier offense early, dropping eight back and keeping three up front in the event the Cavaliers went to the run.
"No question, that was a very smart way to go," said Reed of the Redskins' defense. "That's what they do best. They're a read-and-react defense. They really did a good job defending us and taking away the things we really like to do. Our hats' off to them."
"Our two guys on defense, (assistant coaches) Craig Dues and Frank Griesdorn work hard and had our kids prepared," said St. Henry coach Jeff Starkey. "It's a tribute to our kids for being able to execute."
After Westgerdes' third quarter score, the second touchdown catch for the senior on the night, the Cavaliers cranked up the intensity. Coldwater used 14 plays to cover 74 yards, with Wenning hooking up with Reese Klenke for the second time on the night, hitting a 16-yard pass play to cut the St. Henry lead to 21-14 after Troy Otten's point-after.
The Redskins worked to move the ball and eat up time with some running plays, but on a third-and-nine at the St. Henry 45, Brad Stahl lost the ball and Coldwater recovered. St. Henry held tough and forced a turnover on downs.
Instead of keeping the ball on the ground, though, Stahl went deep on a pass, only to have Klenke pick it off at the Cavalier 30. Again, St. Henry's defense held, forcing Wenning to punt from his 31. A block to the back on the run-back put St. Henry at its own 19. Coldwater's defense stepped up this time, not allowing a yard on three plays and forcing Victor Fortkamp to punt, giving Coldwater the ball its own
(Continued from back page)

47 with 2:38 to go in regulation.
Wenning worked the pass and run to move the Cavaliers as the clock kept moving. Wenning picked up three straight first downs, getting the Cavaliers to the Redskin 7. Two runs later, Wenning punched in, with Otten's kick tying the game with 55 seconds to go. St. Henry could not move the ball on the ensuing possession, forcing overtime.
Coldwater won the toss and went on offense first. Wenning found Adam Rammel for a 14-yard pass, then ran for five yards then punched in from yard out. On the PAT try, Otten's kick was blocked, giving St. Henry extra motivation to score.
Stahl passed the ball for 13 yards on his first two plays, then was sacked for a four-yard loss. On second-and-11, Stahl found Westgerdes for seven yards before finding Fortkamp for a four-yard score. Jon Speck came on to try the game-winning PAT, but the kick went just wide, forcing a second overtime.
"I'm thinking, either Tuesday we're collecting equipment (or) maybe it will be wide right," said Reed when asked about his thoughts before the PAT.
St. Henry scored on four plays on its first try. Stahl ran for 12 yards, then just missed on a pass to Fortkamp before finding Neil Schwieterman for eight yards. Speck made the kick to force Coldwater to score seven.
It just took one play, as Adam Rammel snagged a pass from Wenning on first down and took it to the house. Otten was perfect on the PAT.
When the opening pass missed on Coldwater's third possession, Wenning went to the ground, picking up 21 yards on the next five plays to make it 41-34. St. Henry had trouble on its possession and were looking at fourth-and-nine from the 19. Stahl found enough of an opening to get 10 yards on a pass to Westgerdes, Schwieterman ran for another five and a play later snagged a four-yard pass for the touchdown. Speck nailed the PAT to force a fourth overtime.
"The tough thing about playing Coldwater and going to overtime is that Wenning is a big back and you're giving them a short field (both teams start at the 20 yard line)," said Starkey. "That's tough to defend on the 20-yard line."
St. Henry going with 10 yards on the first two plays of its possession, but a false start put them back at the 12. Zach Fishbaugh ran through and picked up eight, but a Stahl-to-Schwieterman pass on third down gained nothing. Left with a fourth-and-goal from the four, Starkey chose to send Speck out to try and get three points, but the 21-yard attempt went just left, giving Coldwater a chance to win with their next score.
"We had to go for points there," said Starkey about going for three rather than trying for six. "You have to. I think that's pretty much a by-the-book decision in trying to go for points."
Wenning made it nearly academic, getting 19 yards on the first play from scrimmage, then making it official by punching in the last yard to end the game.
"This is who we are. I don't mean to say it any prideful way, but this is what we tried to build our program on," said Reed. "St. Henry (is) the same way. Both teams have great character and I think it shows in a game like this."
"We played hard and I can't be more proud of the football team than I am tonight," said Starkey, who suffers his first-ever loss in 13 postseason games. "From their effort to their execution to the toughness they showed. That's been like that all year. There's been so many weeks we've been beaten up, our kids showed up everyday to practice. It didn't matter who we had out there for a couple weeks, they came out and played. I'm so proud of them."
Wenning came up big for the Cavaliers, completing 23 of his 35 passes for 251 yards and three touchdowns and rushing for 132 yards on 32 carries and three more scores.
"He's the horse," said Reed of his senior quarterback. "He's the guy who's gotten us where we are. If we had taken the ball out of his hands and done something else, we would had been a fool. We needed to keep the ball in his hands and make plays."
Klenke, who had hurt his leg last week, snagged seven catches for 112 yards and two scores. Adam Rammel added 68 yards on five catches.
Stahl finishes a stellar career at St. Henry going 27-for -44 for 316 yards and five touchdowns. Westgerdes had seven catches for 119 yards and two scores. Fortkamp added seven catches for 102 yards. Fishbaugh had 50 yards rushing to go with 52 yards receiving.
Starkey gave a lot of the credit to his offensive line, which gave Stahl plenty of time to work for most of the night.
"Our offensive line had to work hard because that's a good defensive front," said Starkey. "They had those two big ends (Keith Uhlenhake and Eric Lefeld) and (Kurt) Westerheide. All three of those kids are great players. Our offensive line really worked hard tonight."
After playing five overtimes the last two weeks, Reed feels his team could use a break.
"I think we'll give them two days off," said Reed with a smile.