Friday, November 27th, 2009
Santa's arrival has colorful history
Head elf's house in Celina gets remodel; mode of transportation into town has changed throughout years
By Betty Lawrence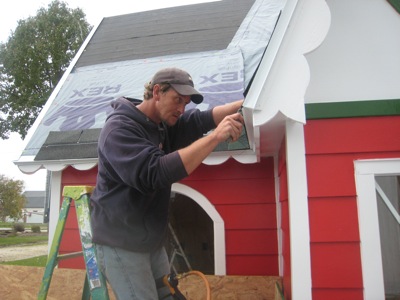 Santa Claus has always made a stop at his house in Celina the weekend after Thanksgiving. It's how he has arrived in town and his digs that have changed during the past 60-plus years.
Over the years Santa has left the North Pole to arrive in Celina by way of horse-drawn sleigh, a Cadillac convertible, a boat, by horseback and by helicopter. One year the fire department even lifted old Santa from the rooftop of a downtown building.
According to historical scrapbooks kept by Brenda Robinson of rural Celina, in the late 1940s Santa would "play" an organ while he sat on a platform outside a second-story courthouse window. The music actually wafted through the air from records that were played inside the courthouse over a public address system.
In those bygone days it was estimated up to 1,600 children would gather on the courthouse steps to see Santa and receive bags of chocolate and fruit, usually an apple and orange.
The current Santa house was built in 1962 by Robert "Red" Adams. It was located at Main and Fayette streets for a number of years before being moved to the courthouse lawn.
Years took their toll and Santa's house received a facelift in 1985 when new doors and windows were installed and carpeting laid.
That's small potatoes compared to the total renovation that the house underwent this year.
Robinson, with the help of many volunteers and many donations, has breathed new life into the old home.
The interior was gutted with new electric and cedar paneling installed. New carpeting was laid and new doors, windows and furniture put in place. Handicap ramps have been added and the home has been insulated and painted, inside and outside.
"It's just something we wanted to do for the town and we hope everyone likes it," Robinson said.
Robinson is no stranger to Santa's house. She made the wooden soldiers that line the courthouse sidewalk, as well as other wooden figures that surround Santa's home. The first wooden figures were made by another volunteer, Bob Grube, in 1994.

How he's coming:
Santa Claus will arrive by carriage in Celina at 11 a.m. Saturday as part of a Reindog parade down Main Street.
The parade starts at the Celina Insurance Group parking lot and ends at Santa's house on the Mercer County Courthouse lawn. The Celina High School Marching Band also will perform.
Santa then will take up residence at his home until 2 p.m. Children are invited to stop by with their Christmas wish lists.
The public is invited to dress up their dogs as reindeer and march them in the parade. At the end of the parade, the dogs can compete for trophies in various contests.
The carriage carrying Santa will be parked in front of First Financial Bank with carriage rides available to the public from 11 a.m. to 3 p.m.
Also on Saturday, the Celina Kiwanis will host a pancake breakfast at St. Paul's United Methodist Church from 8 to 11 a.m.

- Betty Lawrence