Saturday, November 7th, 2009
Studying ways to remove algae
By William Kincaid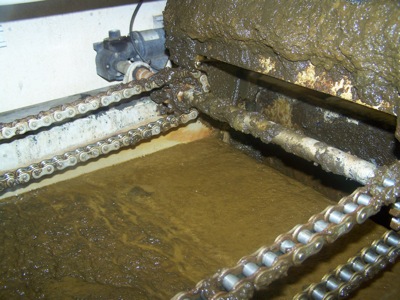 A science experiment is under way inside the semitrailer parked next to Celina's water treatment plant along U.S. 127.
The work is part of a pilot study to find new, cheaper ways to remove algae and organic material from Grand Lake's water before it is turned into city drinking water.
The $10,800 study commissioned in September to Leopold Company, Zelienople, Pa., has yielded positive results, though specifics are not yet available, said Celina Planning and Community Development Director Kent Bryan.
Leopold brought in personnel and a dissolved air flotation (DAF)-equipped semitrailer to determine if water plant costs could be stabilized with such equipment. (DAF) is a technology that uses tiny bubbles to cause silt and algae, known as floc, from incoming lake water to float to the top.
Currently water plant employees use costly chemicals that settle the floc at the bottom of the plant's concrete settling tanks. The floc is pumped to ponds and eventually removed at an annual cost of $60,000.
For the pilot study, lake water is being pumped in the semitrailer, combined with chemicals and processed in two mixing tanks, which are interspersed with compressed air.
"For the most part, everything is looking pretty good," said Jason Scarpo, a Leopold field processing engineer.
Scarpo and water plant Superintendent Mike Sudman also are experimenting with various chemicals, such as polymers, sulfuric acid and feric acid, to determine the optimal chemistry.
"We're trying all different kinds of chemicals ... doses," Sudman said.
The characteristics of raw water differ depending on the source, thus necessitating the need to try multiple chemicals.
According to Scarpo, the city's current method of settling floc to the bottom of its tanks is counterproductive, as algae is buoyant.
"The algae wants to float," he said.
Settling requires more chemicals to weigh the materials down, Sudman added.
Testing will continue until Nov. 18. Though the city will have some results, a formal report from Leopold, including a chemical recommendation, probably will not be ready until late January.
Bryan said preliminary results show that new equipment would save the city money in chemical and carbon costs.
Two DAF units and the necessary infrastructure would cost around $5 million, he said. They could process 4 million gallons of water a day as opposed to the current 1.5 million gallons .
The United States Department of Agriculture - which Bryan says received funds from the federal stimulus package and likes drinking water improvement projects - could be a source of funding.
Bryan says the city might be eligible for a grant to pay for 40 percent of the project, with the remaining portion paid through a 40-year, low-interest loan from the USDA.
Theoretically, the savings from stabilizing water treatment costs would cover the loan, he said.
If city council members eventually approved the purchase of DAF, Bryan said it wouldn't be online until 2011.
This pilot study is the first part of the city's proposed lake restoration plan. Another idea in the plan is to harvest algae from the lake and transform it into methane gas and carbon dioxide to power a gas turbine and produce electricity.