Monday, November 9th, 2009
Twice the patriotism, twice the service by these vets
Celina resident remembers her 1940s Navy days
By Margie Wuebker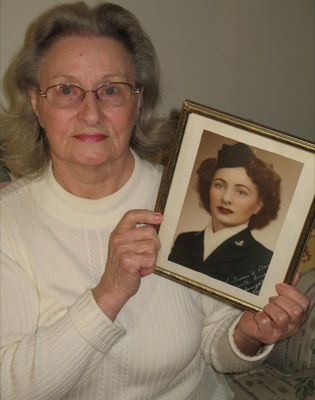 Mary Lydia Kaup of Celina feels a surge of patriotism each time she sees an American flag flapping in the breeze or hears "The Star Spangled Banner" playing before a televised sports event.
There's even a "God Bless America" sign in the front window of her Cheshire Circle home.
"I loved my country before I joined the U.S. Navy and I love it even more after several years of service," the 86-year-old Celina woman says. "Patriotism is as much a part of everyday life as breathing."
Kaup, the former Mary Lydia Longtin, remembers as a teen window shopping with her twin sister Marie on a beautiful autumn day in Troy, N.Y. The twins, who grew up on a nearby dairy farm, paused before a flag-decked recruiting office. They entered on a whim and were greeted by uniformed officers seated at tables representing the Army, Air Force, Marines and Navy.
"The officers kept encouraging us to join and we quickly settled on becoming U.S. Navy Waves," she says with a smile. "Unfortunately we couldn't sign on the dotted lines because we were still two weeks away from our 18th birthday."
With enlistment papers in hand, the girls headed home to talk with their parents. Mom listened and immediately said no, she recalled. Their father listened and agreed to sign the required paperwork.
"It was difficult making a living in the fall of 1943," Kaup says. "There were jobs to be had but they didn't pay much. I worked several places and was lucky to bring home $15 a week. It was only a matter of time until we were on our own, so why not now?"
The twins traveled by train to New York City for boot camp. They missed their parents and 12 siblings, but basic training kept them occupied morning, noon and night, she said. In addition to marching and drilling, they learned the importance of being on time and respecting superiors.
"The Navy took good care of us," Kaup says. "And we never went without a meal. The food was good, not at all like the stories some folks tell. The Waves replaced sailors so they could go to sea."
The identical twins, who were often featured in newspapers, received Washington, D.C., assignments. They initially worked in a large mess hall serving hungry sailors and marines.
Kaup soon received a new assignment at a military building that was guarded round the clock by armed marines. She took an oath not to reveal anything about the coding and decoding work that took place behind the fortified walls.
"I made a vow and I never broke it, not even with my husband or our children," she says. "It is a secret I will take to my grave."
Dances took place each weekend, and Kaup remembers telling her sister to accept all offers to dance. After all, the young men were facing deployment or just returning from battle. But she warned her to stay away from second lieutenants after hearing they were not so nice.
One of her dance partners was Sylvester J. Kaup, a gunner's mate first class from Coldwater, who later became her husband.
"His ship had come in from the South Pacific," she says. "He talked about storms at sea with 20-foot waves and water spouts but not the difficult times sailors endured. He was tall and he looked so clean and neat. Mr. Kaup was a royal person. Something special happened out there on the dance floor and it lasted more than 53 years."
They dated for a short time and then married. She resigned from the military and followed him to New Jersey. They later moved to Mercer County and raised a family of six - four boys and two girls.
Her twin, Marie Longtin Zabuka, married a second lieutenant and eventually settled in Seattle, Wash. She died at the age of 48 following a battle with breast cancer.
"Marie and I were so close," she says. "I once turned down an assignment in Hawaii because we would have been too far apart. Life intervened in its own sweet fashion, but we certainly had a good time serving Uncle Sam before our paths separated. I'm proud to be a veteran and so was she."