Saturday, December 5th, 2009
Family, faith and football keeping Reed's strength up
By Gary R. Rasberry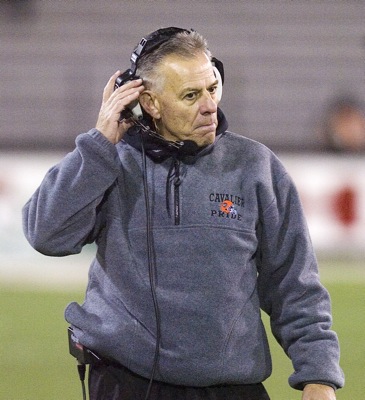 CANTON - When times are tough, one can find one of many outlets to ease their pain and get them through the difficult times: faith, family, friends.... And, yes, football.
In the five weeks since being diagnosed with esophageal cancer, John Reed has found strength in all of the above.
The Coldwater head football coach, who put off beginning radiation treatments and surgery until the end of the season, will turn his full focus on fighting for his life this week.
While some would try to ease away from other matters to focus all the energy on fighting the disease, Reed has found that keeping focused on his team's work through the season has been a help from stress.
"I'll tell you the truth, football has just been a great, great help through this time," said Reed in the locker room after the Cavaliers' loss to Youngstown Ursuline in the Division V state final on Friday night. "You can pour yourself into what these coaches and kids are willing to do. That really keeps you going. If you just sat around and thought about the pain you're in, I think it would break you down a lot more. But it's been good for me, it really has, to be able to share with these guys."
The pain has been there through the postseason. Reed has lost some weight and last week at the state semifinal in Findlay, went down at the conclusion of the game.
But even when the pain has been strong, Reed has been working. Even after falling last week, Reed got up on his own power, shook hands with Patrick Henry coach Bill Inselmann - and offered an apology - and went back to the locker room to be with his team. Then, with athletic director Eric Goodwin, went back to the school to wait for the bus.
Reed's bond with his team, not only current players but also past players, is well known. It's being around them, as well as the veteran coaching staff, that has helped.
"We've got special relationships here with coaches and players. It's been a real blessing for me," said Reed. "You might be thinking 'I wonder if I can do this or not?', then you see them all out there being all excited and see all they're doing and you go, 'Well, I've got to do it. Look at them, look at what they're doing.' They provide great motivation.
"The past players, too. They have just reached out. The line is 'I'll do anything. Whatever I can do, just let me know.' They would, and that's the beauty of it, because we would do the same thing back for them."
Naturally, the Coldwater community has reached out to support the Reed family during this time.
"It's really been phenomenal, but it really means the most from the people from our own Coldwater community," said Reed. "They've rallied and helped my wife and I and been so supportive, so loving and so kind.
"Little did we know when we moved here 15 years ago, that we were going to develop relationships like what we have. I wouldn't trade being anywhere else in the world than where we're at."
Coaches from all over the state have also sent best wishes during this time.
"The coaches I've crossed paths, and when you've done it (coached) as long as I have, you've crossed a lot of paths, those guys have been tremendously helpful."
The main thing that has gotten John Reed through this battle for health has been his faith. A strong Christian man, Reed knows that God will guide him through all things.
"I don't question it one bit. I'm just so thankful that I've been blessed in so many ways," said Reed. "Just having the opportunity to be here the past 15 years, it's kind of like perfect timing, to be here with these coaches and these players and develop the relationships. Not just with football, but throughout the community. It's really been a blessing to me.
"It's kind of like God said 'You know, you've paid your dues, now I'm going to let you go to Coldwater and enjoy some of the payments.' "