Tuesday, December 8th, 2009
Drivers crash into start of snow season
By Margie Wuebker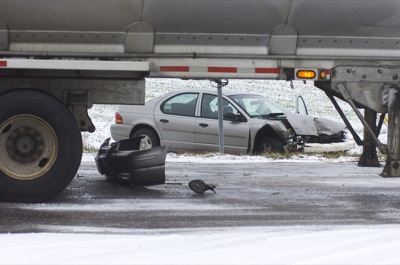 An unexpected blast of winter weather packing less than an inch of snow caused a rash of accidents throughout Mercer County on Monday morning, including one that resulted in injuries and another that damaged a Mercer County Sheriff's cruiser.
Deputies responded to an injury accident at 11:43 a.m. at the intersection of state Route 29 and Fleetfoot Road with wintery road conditions cited as a factor.
Daniel L. Vian, 56, 9703 Township Line Road, Celina, was in the process of turning a semitrailer south onto Fleetfoot Road when Michael E. Donthnier, 51, 111 Wild Cherry St., Celina, attempted to slow his northbound 1997 Dodge Stratus for the approaching intersection. The car slid on snow and ice before striking the left rear wheels of the semitrailer owned by Mercer Landmark.
Donthnier was taken by ambulance to Mercer County Community Hospital in Coldwater.
The truck sustained light damage while the heavily damaged car was towed from the scene.
Deputy Doug Timmerman was involved in a two-vehicle accident at 7:52 a.m. at the intersection of Burkettsville-St. Henry Road and state Route 219 west of Coldwater.
The 36-year-old officer was stopped northbound on Burkettsville-St. Henry Road when Brittany M. Hibner, 19, 3011/2 S. Market St., Coldwater, attempted to slow her 2004 Chevy Cavalier for the approaching intersection. The vehicle slid on the snowy and icy pavement and struck the rear of the 2008 cruiser.
Neither driver was injured. The report listed moderate damage to Hibner's car and light damage to the cruiser.
Celina Police responded to six traffic accidents involving property damage but fortunately no injuries. Additionally, two vehicles slid offw city streets resulting in no damage. All of the accidents occurred between 6:30 a.m., when snowflakes began falling, and 10 a.m.
The sheriff's office handled 12 weather-related accidents between 6:41 and 8:32 a.m. with the car-truck crash occurring approximately three hours later.
Both Police Chief Dave Slusser and Sheriff Jeff Grey agree the first snowfall often catches many motorists off guard.
"Drivers need to be prepared for winter driving and remember to drive slower, be more cautious when crossing bridges and overpasses and lengthen the distances maintained when following other traffic," Slusser said.
Authorities also warn motorists that private parking lots may not be treated like public roadways. Therefore, the police chief encourages drivers to be alert to the possibility of slick spots when entering parking areas.
Monday's snowfall measured seven-tenths of an inch with weather forecasts bringing another chance of snow and slick roadways on Wednesday.