Wednesday, December 9th, 2009
Officials have CHIP house on market
By Janie Southard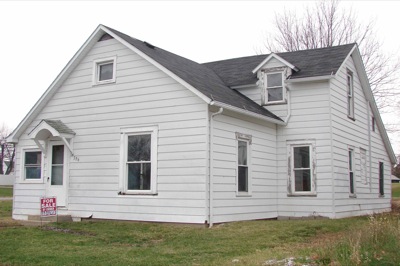 ST. MARYS - Auglaize County commissioners have a house for sale at 306 S. Beech St., and any profit will go toward helping another homeowner through the Community Housing Improvement Program (CHIP).
"We've owned this house for a few years. By that I mean we hold the first mortgage ... It's a CHIP house the county spent $25,000 on, and the lady who lived here died a year or so ago," County Administrator Joe Lenhart said. "We have a lot of these (CHIP) houses throughout the county and in most cases we're the second mortgage, so we don't usually get anything if the owners move, sell or pass away."
This time is different. The house came before commissioners recently when the county treasurer's office sent a notice that the commissioners would be sued for non-payment of $6,000 in taxes.
Relatives of the lady who owned the property have been living in the house but failed to pay the taxes. So the commissioners decided to put the house on the market hoping to at least recoup their $25,000 investment plus the $6,000 they paid in taxes.
"It's not that we'll be making money. We'll put everything back in the CHIP fund for another home project in the future," said Lenhart, who will conduct an open house on Friday from 1:30 to 3 p.m. and Saturday from 10 a.m. to noon.
"We've sent out a lot of letters to folks we know buy these type properties, but of course, anyone interested is welcome," he said.
CHIP is a federal grant program that pays for emergency repairs to residential homes and/or to bring homes up to current building codes. The county has participated in the program since the early 1990s and has helped hundreds of homeowners over that period, Lenhart said.