Monday, December 14th, 2009
Public to view new detention center
Mercer County
By Margie Wuebker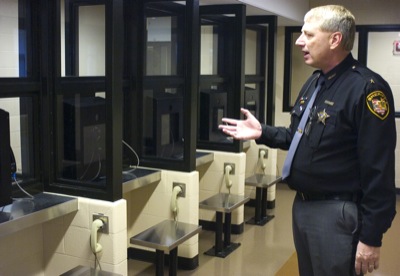 Area residents will have an opportunity to tour the new Mercer County Detention Center during the first public open house to be held Tuesday from 6 to 8:30 p.m. Mercer County Sheriff Jeff Grey said additional open houses will be scheduled after the holidays.
Employees - with the exception of corrections officers - will report to the new 50,000-square-foot jail/sheriff's office, located off state Route 29 near the Mercer County Home, the morning of Jan. 4. Formal ribbon cutting ceremonies are planned for 2 p.m. that day.
Dispatchers will be on duty at both sites until the 911 switchover takes place between midnight Jan. 4 and the early morning hours of Jan. 5. Training for corrections officers begins Jan. 4 and continues through Feb. 28 when inmates will be transported to the new facility in time for dinner.
Grey hopes to schedule an open house that day at the new 110-bed facility as well as the existing 15-bed jail that has served the county for decades. The new detention center is designed to hold male as well as female inmates. Current standards also allow juveniles to be held at the facility for four hours as long as they are segregated from the adult population.
Voters approved a 0.5 percent sales tax by a mere 66 votes in November 2007 to fund the $12 million project. Construction commenced in August 2008.
"I hope area residents will come and take a tour," Grey said. "Our goal was to construct a functional building. It is nice but not elaborate. First and foremost, it is a jail - a place people serve sentences imposed by the courts and not a place they want to come back."
Inmates no longer will be lounging around on bunks all day or flipping television channels on handy remote controls, the sheriff said. They will be expected to earn their keep by cleaning the detention area, cooking meals, doing the laundry and washing cruisers under supervision of staff members. The person seated behind the one-way glass of the control center will determine when televisions are turned on or off and what stations air. Visits will be conducted over telephones and video screens.
The new jail also boasts a classroom area where inmates can take GED classes or learn basic life skills like setting up a budget and balancing a checkbook.