Friday, December 18th, 2009
Defense carries Indians past Panthers on the road
By Mark Ruschau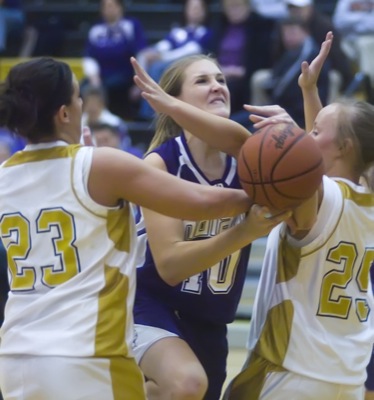 ROCKFORD - The Fort Recovery Indians went on the road and took care of business as they used a great defensive effort to defeat the Parkway Panthers, 73-28, in Midwest Athletic Conference action on Thursday night at Panther Gymnasium.
With the win, its third in a row, Fort Recovery improves to 4-1 on the season and 2-0 in the conference while Parkway falls to 2-4 overall and 0-2 in the MAC.
"We came over here and played a pretty nice game tonight," said Fort Recovery coach Doug Bihn. "We have not yet hit on all of our cylinders yet, we are not there yet, but we are coming. The nice thing about this game tonight was that we were able to play everyone and they did some good things and some not so good things which gives us some good film to look at."
Things started slowly for Fort Recovery as Parkway hung tough early with the Indians leading just 8-4 midway through the opening period. Chelsea Leuthold then took over as she converted on a three-point play and hit a pair of free throws on back-to-back trips to give her team a 13-4 lead and the Panthers came no closer than eight points the rest of the way.
When Bihn and his staff look at the film, they will see a four-quarter effort by his squad defensively. The Indians held Parkway to just 11-of-41 shooting and forced 25 turnovers. The Fort Recovery defense got better as the game went on, giving up just 14 points in the second half, including just three in the fourth period.
In addition to doing a great job defensively, the Indians did a great job on the boards, outrebounding the Panthers 40-23. Nicole Pottkotter led the way on the glass for Fort Recovery with 10 rebounds while Kelly Nietfeld added nine boards off the bench. In all, 10 of the 11 Indians that played in the game contributed at least one rebound.
"We gave up just 28 points tonight and any time you can hold a team under 30 points, it's a good effort," said Bihn. "I told the kids at halftime last week against New Bremen that we were up big at the half and then we came out and played a not so good second half. I told them that we needed to go out and win every quarter and we came out and won the third and fourth quarters. I thought we came out and played pretty good halfcourt man defense in the third and fourth quarters. I really like the way we played in the fourth quarter defensively."
On the offensive end, Fort Recovery was solid, connecting on 26-of-53 shots from the floor, including 6-of-10 from three-point range.
Holly Brunswick led a balanced Fort Recovery scoring attack with a game-high 14 points, Leuthold added 10 points and 10 of the 11 Indians that played scored at least two points.
Hannah Harshman led the way Parkway with 10 points while Kaelia Crawford chipped in five points and pulled down a game-high 11 rebounds.
Parkway returns to action on December 29th playing host to the Chatt Insurance Holiday Tournament. Fort Recovery returns to action on Saturday, traveling to Portland to take on the Jay County Patriots with a 6:30 p.m. JV tip.