Thursday, December 24th, 2009
Celina man sent to prison for reckless homicide
Schmidt sold pain patch which killed local woman
By Margie Wuebker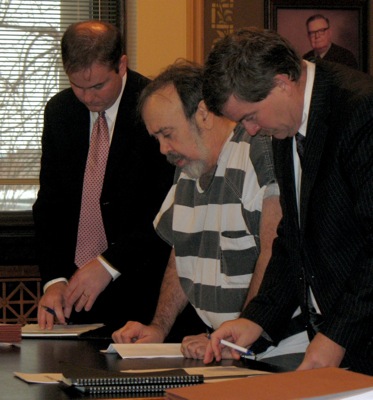 Phillip Roy Schmidt is headed to prison for 13 years after an unsuccessful bid to withdraw his Alford guilty plea, obtain new court-appointed attorneys and head to a jury trial.
The 60-year-old Celina man, charged in connection with the drug-related death of a local banker, learned his fate in Mercer County Common Pleas Court on Wednesday morning - two days after filing a motion citing coercion, duress and badgering during plea negotiations.
Schmidt leaned against the defense table as Judge Sumner E. Walters imposed consecutive terms totaling 13 years on charges of reckless homicide, corrupting another with drugs and trafficking in drugs within the vicinity of a school. He will have no opportunity for judicial release or early release for good conduct although the visiting judge extended credit for 160 days served during dependency of the case. Given the defendant's indigency status, Walters waived $12,500 in mandatory fines.
Attorneys Steven Diller and Steve Mielke indicated their client intends to appeal the decision. Walters noted new legal counsel will be appointed for the proceeding in the Third District Court of Appeals in Lima.
The judge rejected Schmidt's motion to withdraw his plea, labeling it "simply a change of heart in an attempt to avoid the inevitable."
Schmidt, who had difficulty climbing several steps to the witness chair during the motion hearing, responded to questioning about the Dec. 8 plea by stating "I was very stressed out. I did not know what was going on. I was innocent until proven guilty. I took the offer. I couldn't believe I signed it but I did. I thought we were going to jury."
The state permitted the defendant to enter the Alford guilty plea which allows him to dispute facts in the case while maintaining his innocence and accepting a plea bargain. As part of the negotiated agreement, the state dropped 10 additional counts including involuntary manslaughter and agreed not to pursue charges relating to a probation violation.
"It seemed like everything was go-go-go," he added. "I was continually badgered and Mr. Matt Fox (the assistant prosecuting attorney) came to the door and said I had 15 minutes to decide."
Prospective jurors arrived by 9 a.m. Dec. 8 and learned negotiations were under way. Schmidt met with his attorneys and family members during the ensuing three hours, explaining they waited for daughter Desiree to arrive from Ohio State University.
"My attorneys responded by telling me that I had no case and I had better accept this deal otherwise having greater chances of facing 89 years in prison," he wrote in the motion. The defendant subsequently sent a request to the judge seeking new counsel but the request was denied.
Schmidt said everything was so mixed up that day and he did not realize he was given only 15 minutes to make a decision that would affect the rest of his life.
"I thought we were going back into the courtroom to pick out a jury," he said. "Then everything went backward. I'm innocent and that's it."
Celina Police responded to the home of Brett and Michelle Riley at 428 E. Livingston St. the night of June 9 after the couple's children were unable to rouse them.
Michelle Riley, a banker at Chase Bank in Celina, was pronounced dead at the scene while her 42-year-old husband Brett was rushed to Mercer County Community Hospital in Coldwater unconscious but breathing.
Mercer County Assistant Prosecutor Matt Fox said Brett Riley purchased a Fentanyl patch from Schmidt for $56 after tracking him down at Roberts Town Tavern in Celina. They reportedly went to a Morton Street residence to get the patch and Riley subsequently turned down an offer to go out for a drink, saying his wife was home waiting. It was not the first transaction between the pair involving drugs for recreational use, according to Fox.
The Schmidts allegedly sucked on pieces of the patch to obtain a heightened effect from the narcotic it contained. Fentanyl is prescribed for long-term or chronic pain not relieved by other pain medications like morphine and codeine. When used properly, the patches provide a slow release of painkilling drugs over a period of 24 to 48 hours. An overdose leads to swelling of the mouth and face, difficulty breathing, seizures and ultimately death.
An autopsy conducted at the Montgomery County Coroner's Office determined the cause of Michelle Riley's death as Fentanyl and alcohol intoxication.
Brett Riley regained consciousness at the hospital and allegedly told medical personnel about their drug use in an attempt to help his wife. He reportedly was unaware of her death at that time.
He remains free on bond pending a Jan. 6 pretrial hearing. He faces two counts of involuntary manslaughter as well as one count each of reckless homicide, corrupting another with drugs, trafficking in drugs and possession of drugs.