Wednesday, December 30th, 2009
Missed free throws doom Bulldogs
29th Annual HALLiday Shootout
By Ryan Hines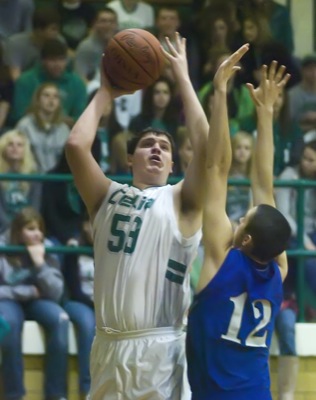 An inability to make free throws cost the Celina Bulldogs a chance at repeating as HALLiday Shootout champions.
Columbus Bishop Ready lost in the title tilt to Celina a year ago, but the Silver Knights got a strong second-half performance from Joe Graessle to knock off the Bulldogs 50-43 on Tuesday night at the Fieldhouse.
"We have some guys that remember losing in the championship game last year and it is nice for them to get the opportunity to get to avenge that tough loss from a year ago," said Ready first-year head coach Don Worstell. "Celina is a very good basketball team and we feel fortunate to have the win tonight. We gutted it out tonight."
Graessle scored 18 of his game-high 20 points in the second half to earn Most Valuable Player of the tournament honors.
"I think that he was frustrated at halftime, but he's a good player and a player that can score and he showed that in the second half," said Worstell. "He came in averaging 24 points per game and he got himself going in the second half."
"Nate (Bihn) did a great job on him, especially in the first half, but he (Graessle) got a few easy buckets on steals and then got a couple of open looks to get going," said Bihn.
Had Celina been able to make its free throws, Graessle's award would have come in a losing effort.
Celina missed four free throws, including two on the front end of one-and-one opportunities, in the final 34 seconds as Ready led by just two points at the time.
Ready led 45-43 with 34 seconds on the clock when Celina's Scott Moeder and John Homan both had one-and-one opportunities. However, Moeder and Homan hit the back of the rim on their first tosses and then Ready's Matt Biggs hit one from the charity stripe with 27 seconds left to play to push the lead to 46-43.
Homan had a chance to pull the Bulldogs to within one point when he was fouled with 27 ticks left on the clock, but the junior missed both free throws off the back of the rim before Matt Feeney and Graessle each hit a pair of free throws each to close out the game.
Celina head coach Chris Bihn knows that his team let a win get away after shooting 4-of-13 at the free-throw line in the game, including an 0-of-6 showing in the second half.
"That was the game right there.....We didn't hit our free throws, and I don't know why," said Bihn. "So many missed free throws at big times and some of those were one-and-one's too, so we missed a chance to win this game by not hitting our free throws."
Celina's shooting struggles weren't limited to the free-throw line as the Bulldogs shot just 18-of-47 from the field (38 percent), including just 3-of-20 from behind the three-point line (15 percent).
"We just have to continue to work on our execution on offense and have confidence to knock down the open shot when it is there. We just have to get better on offense, it's that simple," said Bihn. "You want to know how bad we are shooting? In our three losses, we won the turnover battle and the rebounding battle, but still lost. If you win those two things, you will usually win the game, but we are shooting so bad right now that we can win those two areas in the game and still not win because of our shooting....And that has happened three times."
Greg Riemesch was the leading scorer in the game for Celina with eight points while Darin Waterman, Mitchell Ross and Nate Bihn all scored six points each.
Ready's hot shooting helped overshadow Celina's 36-19 advantage on the boards. The Silver Knights shot 17-of-35 from the field, including 5-of-10 from three-point range while also hitting 11-of-16 from the free-throw line.
Cody Culbertson joined Graessle on the all-tournament team for Ready after 10 points in the title game. Also on the all-tournament team were Celina's Waterman and Bihn along with Bryan's Matt Wisler and Greenville's Graham Luce. Bryan beat Greenville 54-46 in the consolation contest.
Celina beat Bryan 45-19 to win the jayvee portion of the tournament, while Ready beat Greenville 57-44 in the consolation matchup.