Friday, December 4th, 2009
Wood is his passion
Celinan Ray Feltz finds creativity, comfort in his craft
By Betty Lawrence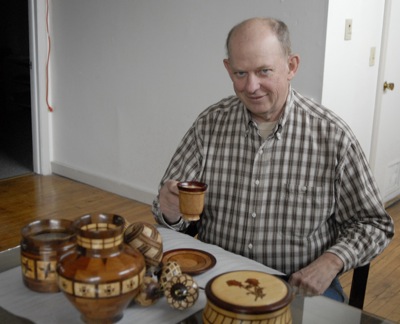 The passion of Ray Feltz - or obsession as he sometimes calls it - is a form of artwork called segmented woodturning. In this craft, thousands of minute pieces of various kinds of wood are precisely cut and glued together to form one-of-a-kind ornaments, bowls, trinket boxes and other pieces of art.
"Basically, you make tiny pieces of wood and glue them together to create whatever it is you want to make," said Feltz, 63, of rural Celina.
An approximately 3-inch tall egg made of two South American exotic woods (Redheart and Yellowheart) and holly recently was selected for display at a national art gallery in St. Paul, Minn. The egg, with a ribbon pattern, is made up of 2,352 pieces of light and dark wood glued together in 49 layers, Feltz explained.
"Segmented woodturning is an exercise in patience," he said. "This is what I do. I get from it more than I give. It's my release and my pleasure."
The color of the wood is of utmost importance when a piece calls for contrast, he said, adding he works a lot with walnut, maple, cherry and exotic South American wood. He uses only natural wood; the wood is not stained, allowing its true color to shine.
The long-time Reynolds & Reynolds printer says he has always enjoyed building things.
"I have liked building things all my life and when the craft world came along, I looked at what they were making in mass quantity and it just didn't appeal to me," he said.
He was hankering to make something that was solid, unique and would withstand time.
In the mid 1980s Feltz built a wooden lathe to do his woodworking, and as his skill improved, so did his lathe and the complexity of the art pieces he has created.
A lathe is a machine that shapes wood by using a rotating drive and various changeable cutting (gouging) tools. Other than table saws and lathes, a woodturner will use an index wheel to get the exact size and number of pieces of wood needed.
His workshop, located in the basement of his home, is climate controlled and all the wood he uses is pressure treated. Remember, wood is always alive, he says, it's always moving, expanding and contracting.
When he's in his "bear cave," Feltz uses no clocks or watches. Time is of no relevance.
Feltz and several fellow woodturners gather weekly to share their passion, supporting each other and bouncing ideas back and forth.
He also is a member of the American Association of Woodturners, which puts on Professional Outreach Programs (POP). He recently was asked by the association to come up with a teapot that will be auctioned as a fundraiser at an upcoming POP symposium.
"The piece needs to be completed by the end of January and I estimate I'll be using about 4,000 pieces of wood for this piece. I have the pattern in my head right now," Feltz said smiling.
Always on the lookout for new means of plying his skills, Feltz made a red wood rose that graces the lid of a large trinket box. He toasted the pieces of the rose in white silica sand to get the realistic coloring, he said.
Feltz says he often looks to nature for inspiration for his designs.
"Just look at the egg. It is a classic shape," he said. "I look at things that are pleasing to the eye, as most things in nature are that way, even a nutshell."
As for what's down the pike, Feltz is eyeing mosaics. He admires the mosaic pictures in the old chapels in Europe and some day hopes to incorporate mosaic pictures into his pieces. He already has mastered open segmented woodturning in which strategic openings are situated between each piece of wood.
Feltz said he has found comfort and solace in working with wood after losing a son in a traffic accident and after a near-death heart ailment. He crafted a vase after the death of his son, Dylon.
"It will always be special to me. It helped me get through a hard time," he said, adding that his wife, Rita, and three sons and daughter have always encouraged him to heed his passion.