Saturday, January 2nd, 2010
Sisters' art endures
By Janie Southard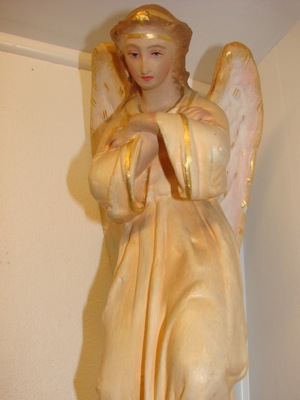 MARIA STEIN - Many of the statues and crucifixes at the Maria Stein Center are the artwork of the early sisters who lived and worked in the late 1800's in the motherhouse of the Sisters of the Precious Blood.
Some statues are life sized and some are very small wax figures, which the sisters molded by hand.
"The statues of Mary and Joseph on the side altars are papier mache (overlaid) with a ground up gray substance. There are wooden braces inside to give the statues support. That's typical of the larger, standing statues. (The sisters) called that gray substance plaster but it isn't plaster as we know it. It's like putty," Sr. Regina Albers explained earlier this week as she paused before a crèche at the southeast corner of the main chapel.
This crèche, one of several at the Center, includes statuary about two feet tall (Magi standing). It is believed, but not documented, that those early sisters created this crèche.
"Over the years there were scratches and chips, which Diane Dues, who works in our gift shop, repaired. She is very good," Sr. Regina said.
Upstairs in the Heritage Museum there is a disassembled papier mache statue of Christ that is used to illustrate how the statues were made. The head and face are intact. The chest is in front and back sections, which show the paper used was a German newspaper. There were at least a couple such newspapers published in this area, certainly in New Bremen, 100 or so years ago.
"For some time the sisters made and sold the statues as a money making venture," said Sr. Regina, adding it was a profitable venture. "These works of art graced shrines and churches. One of the crucifixes is still in Holy Trinity Church in Bryant, Ind."
Working in papier mache could not have been a quick undertaking as there had to be drying time between the layers, she explained. It could have been the sisters applied a layer of papier mache and went off to prayers while their artwork dried.
Other religious art pieces made at Maria Stein are of wax. "We have several images of (the baby Jesus and Jesus as a young child) in varying sizes from six inches to almost two feet tall," she said, stopping to unlock a case containing the still nearly perfect doll-like figures.
"These small ones are made entirely or wax but the larger ones have a cloth body," she said.
Sister Magdalene Yacklin, who entered the community in 1911, told Sr. Regina that the infant wax figures were molded entirely by hand from bleached bees' wax. In a recent issue of "The Update," the newsletter from Maria Stein Center, Sr. Regina quoted Sr. Magdalene: "It took one whole day to make an infant ... Because the wax had to be kept at a certain consistency and worked with the hands, time could not even be taken off for prayer."
It is likely that the early sisters learned this technique in Germany, Sr. Regina speculated.
Another little footnote to the history of the sisters' art is how at least one wax image got its curly hair.
"Sister Angela Post related that once when her four-year-old brother visited the convent, the sisters clipped his curls to use for a wax infant. When the little boy returned home, his mother was horrified at his chopped-off hair," she said smiling at a small wax figure with blonde curls that is likely still a topic at Post family gatherings.