Thursday, January 14th, 2010
St. Marys gas station bomber nets four years in prison
Judge orders Jesse McDermitt to serve maximum sentence
By Shelley Grieshop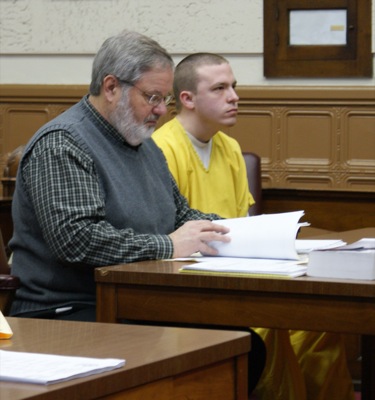 WAPAKONETA - A 19-year-old St. Marys man gave a brief apology Wednesday morning before a judge ordered him to serve four years in prison for placing a homemade bomb at a gas station 13 months ago.
Jesse McDermitt - described by the prosecution as "a danger to the community" - was given the maximum prison sentence allowed by law during the hearing in Auglaize County Common Pleas Court. He'll be eligible for parole after serving six months.
In a yellow jail uniform with shackles at his ankles, McDermitt sat next to his court-appointed attorney, Mark Weller. Three of McDermitt's family members sat behind them in the otherwise empty visitor seats.
"I'd just like to apologize," McDermitt said quietly when given the opportunity to speak on his own behalf.
Weller had asked the court for a sentence that was "something less" than the prosecution's recommendation of the maximum prison term.
"He's had a long history of mental issues," Weller said in McDermitt's defense.
McDermitt was indicted April 29, 2009 - almost five months after the Dec. 2, 2008, incident a block from downtown St. Marys. In late November, McDermitt pleaded guilty to carrying a concealed weapon, unlawful possession of a dangerous ordnance and inducing panic, fourth- and a fifth-degree felony charges.
Besides the prison term, Judge Frederick Pepple also ordered McDermitt to pay nearly $10,000 in restitution. The Marathon gas station in St. Marys, where the makeshift bomb was left, will receive $3,530 for compensation including loss of business. The city of St. Marys will be paid $6,399 for their costs, which includes the $4,815 they already paid to the Allen County Bomb Squad.
McDermitt admitted during plea negotiations in November that he left an improvised bomb in a bookbag beside a gasoline pump shortly before 8 a.m. that December morning. A gas station employee spotted the bag and brought it to the entrance of the business, assuming a student had left it behind.
About 45 minutes later the bag was opened and wires and fluid-filled liter bottles were found inside. Police were called and later the bomb squad detonated the device at a remote location. No one was injured.
After viewing security camera video, police went to McDermitt's home at Townview Terrace Apartments in St. Marys and found him with a second homemade bomb strapped to his body. That device fell to the ground during a police search and also was detonated safely.
Three St. Marys schools were placed on lockdown during the incident. McDermitt was not a student in the district at the time.
In 2006, after being expelled from McBroom Middle School in St. Marys, McDermitt brought homemade explosive devices, shotgun shells, a gas mask and knives into the school at Wapakoneta, where he was attending. Later, he told authorities he was being harassed by other students.
A juvenile at that time, McDermitt was charged with 10 crimes and sentenced to 21/2 years with the Department of Youth Services (DYS). He was released and had served just three months on probation when he committed the crime at the gas station.
After the sentence was announced Wednesday, a lengthy discussion ensued between county Prosecutor Ed Pierce, Weller and Pepple about McDermitt's custody status with the DYS. The argument began after Pierce requested the four-year prison term be consecutive to the juvenile court case.
Later it was determined that Pepple's court does not have the authority to make its sentence consecutive to the juvenile case.
Following the bomb incident at the gas station, McDermitt was incarcerated by the DYS for violating probation terms of the 2006 conviction. Officials argued whether the time served at the DYS should be credited toward the adult court case.
Also, without knowing when the DYS would release McDermitt for the probation violation, Pepple questioned when the young man would begin serving the prison term.
After a brief 5-minute break behind closed doors, Pepple concluded that McDermitt's stay at DYS since May was prompted by the bond hearing in the adult felony case. He subsequently gave the defendant 237 days credit for the incarceration.
Pepple also noted the DYS currently has jurisdiction of McDermitt and the adult case is secondary.
"When DYS releases him from their custody . . . he will begin serving his sentence in this court," Pepple said. "At that time he will be ordered to be transported to the Ohio Department of Rehabilitation and Corrections (ODRC) to begin his sentence."
It was speculated by Weller that DYS likely would immediately release McDermitt to the ODRC upon notification of Wednesday's sentencing.