Friday, January 15th, 2010
Celina keeps share of lead in WBL
By Ryan Hines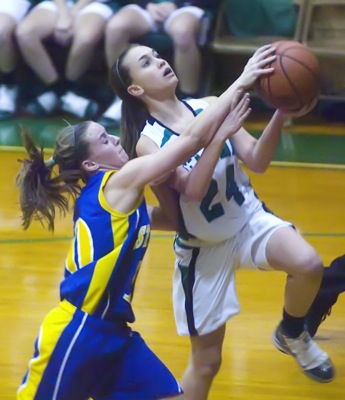 A pair of Grand Lake rivals met on Thursday night with a share of the Western Buckeye League lead hanging in the balance.
Celina kept its unblemished league record intact with a 55-39 victory over St. Marys in their annual Battle of Grand Lake at the Fieldhouse.
The Bulldogs are now 8-2 this season and a perfect 3-0 in the WBL while St. Marys slips to 4-5 overall and 2-1 in league play. Celina is in a three-team tie for first place in the WBL standings along with Shawnee and Bath.
"St. Marys is a team that I had up with the top teams in the WBL before the season started and the were undefeated in the league before tonight, so it's a big win for our team," said Celina head coach Brian Stetler. "Our first two WBL games we won pretty easily and I thought that tonight was going to be a good test for us. It's a big step in the right direction for us, but we still have a long ways to go."
St. Marys actually held a slim 16-15 lead at the midway point of the second quarter, but Celina went on a game-changing run to close the first half.
Celina closed the first half of play with a 10-2 run to take a 25-18 lead at halftime. Candra Francis, who missed the last game due to illness, scored five points during the run to give the Bulldogs a seven-point lead after two quarters of play.
Cenzie Yoder and Francis then added a bucket each to start the third quarter putting Celina on top 29-18 to force a St. Marys timeout.
Celina then got a spark off the bench, as Mackenzi Rutschilling netted six of her eight points in the game in the final two minutes of the third quarter to give the Bulldogs a commanding 40-23 advantage going into the fourth quarter.
"We got a big lift from Mackenzi off the bench tonight and I think that our whole bench played well," said Stetler. "With Amanda (Hoying) out tonight being sick, Mackenzi stepped up and made a big contribution."
The Bulldogs' lead never dipped below 12 points in the fourth quarter as Celina celebrated a 16-point win over its rivals from Auglaize County.
A strong defensive effort by Celina keyed the Bulldogs' double-digit win. Celina forced St. Marys into 20 turnovers and the Roughriders struggled to find its shooting touch making just 32 percent of its field-goal attempts (15-of-47).
"Celina came out strong and aggressive on defense and they made us do things that we didn't necessarily want to do," said St. Marys first-year head coach Kelly (VanderHorst) Fulmer, who as a 1,000-point scorer for the Bulldogs during her playing days at Celina (1998-2001). "They executed their defense and we struggled shooting the ball."
Stetler liked what he saw from his team on the defensive side of the ball.
"St. Marys has a nice team, and coming in, we knew that we had to step it up on the defensive side of the floor and I think that our girls did a good job on defense tonight," said Stetler. "They have several girls that can score the ball if you let them, but we did a good job of limiting their good looks at the basket."
Yoder continued her strong play in the post for the Bulldogs with a team-high 13 points to go along with a game-high 17 rebounds. Francis joined Yoder in double figures for the Bulldogs with 11 points while Rutschilling and Abbey Welker netted eight points each.
Erika Thornsberry led all scorers in the game for St. Marys with 17 points (on 7-of-20 shooting from the field) and the Roughriders' senior also added 11 rebounds and was the lone player for the visitors to hit double figures.
Celina is back in action again on Tuesday with a Mercer County battle against Marion Local at The Hangar while St. Marys hosts New Bremen on Saturday.