Monday, January 18th, 2010
From St. Henry to Miss America?
Gelhaus prepares to compete for crown
By Betty Lawrence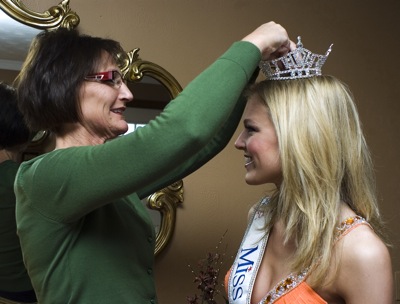 A quiet excitement filled the air in Ron and Judy Gelhaus' St. Henry home last week, as Judy Gelhaus adjusted the 2009 Miss Ohio crown on her daughter's head. Erica Gelhaus will compete in the Miss America pageant Jan. 30, in Las Vegas, and she was spending some time with her family before leaving for the competition.
The 2006 St. Henry High School graduate has been preparing for this once-in-a-lifetime experience almost daily since accepting the Miss Ohio title in June. That win entitled her to the opportunity to compete in the coveted Miss America event.
"In the Miss Ohio pageant, you may compete more than once, but for Miss America, you only get one shot," Gelhaus said. "If named Miss America, I would be a vessel to use the power of the Miss America organization to touch and impact millions of people. If you can inspire others, think of how far you can go."
The 53 Miss America hopefuls will be judged by a seven-member panel in talent, swimsuit, and evening gown competitions, plus an interview and on-stage question.
A covey of trainers and coaches have been working with Gelhaus for six months, helping her prepare physically and mentally for the pageant. Among them are a fitness trainer, vocal coach and makeup artist. Gelhaus plans to do her own hair. People have helped her with mock interviews and she completed the Dale Carnegie personal training course offered by pageant officials.
She will sing the aria, "So anchio la virtu magica," (I Know the Virtue of Magic), for the talent portion of the competition. It is a number she first sang while a student at Otterbein College.
A fashion designer in South Carolina crafted her competition gowns.
"He picked out the color, fabric and style and if I need any last minutes adjustments, they will do it at the pageant," Gelhaus said.
"One of the gowns is in a tangerine orange, a color I never would have selected, but it seemed to work when I put it on."
All contestants will be wearing black cocktail dresses for the pageant's opening number. Gelhaus chose from three styles offered by the pageant. Six styles of black swimsuits also were offered.
Pageant rules forbid contestants to publicly display their evening gown prior to the pageant.
"No one is allowed to see it until the night of competition," Gelhaus said.
The 2006 Celina Lake Festival Queen began singing at the age of 16. She took voice lessons through high school and continued at Otterbein College with a voice director. She also has had five years of ballet and five years of piano instruction.
Gelhaus will fly to Las Vegas on Thursday. Miss America officials will welcome her and escort her to Planet Hollywood Resort and Casino, the site of the pageant. Three days later, her parents, all five siblings and a very large contingent of other family members and supporters will make their way west to support Mercer County's own.
"The evening gown and on-stage clothing that Erica will wear in the pageant have been sent to Las Vegas. We'll be bringing the rehearsal outfits with us when we go," Judy Gelhaus said last week, as she carefully wrapped some of the items in tissue paper. Immediately after the pageant, at least two people will be needed to go backstage to gather all of Erica's pageant attire, she said.
The week prior to the pageant will be jam-packed with appearances, rehearsals, interviews and preliminary competitions in swimsuit, evening gown, and the on-stage question.
"God has given me a lot of blessings. I have a strong faith, family and community. I put a lot of expectations on myself but I have been preparing for this and feel I am ready. I just don't want to have any regrets afterwards, when it's too late."
The Miss America organization is the largest scholarship organization in the world. This year marks the 89th pageant with $45 million in scholarships distributed thus far to young women.
"It's been surreal. It definitely takes a team effort to get ready for Miss America," Judy Gelhaus added, thanking everyone who has lent a helping hand.

Viewing the pageant:
The Miss America Pageant will air at 8 p.m. Jan. 30, on TLC.
Romer's Catering in St. Henry will hold a Miss America Watch Party.
Doors open at 7 p.m. with a cover charge of $3.
Activities include a kids craft table, Miss Ohio trivia, interactive games, prizes, 50/50 raffle, and concessions.