Wednesday, January 27th, 2010
Huelsman hits milestone at UD
St. Henry grad owns Dayton record for consecutive starts
By Gary R. Rasberry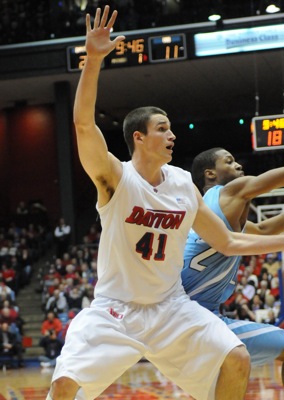 DAYTON - Kurt Huelsman showed early that just because it was a milestone night for him personally, that it wasn't a night to rest on his laurels.
The St. Henry graduate and University of Dayton senior post player became UD's all-time leader in consecutive games started as he made his 120th start of his career on Tuesday night in Atlantic 10 action against Rhode Island at the University of Dayton Arena.
Huelsman came up with one of his best nights of the season, but the performance was a little bittersweet as Rhode Island snapped the Flyers' 30-game home-court winning streak with a last-second three-pointer by Marquis Jones for a 65-64 Rams win.
The Flyers are 14-6 overall this season and 3-3 in A-10 action.
Huelsman finished the night with 10 points and nine rebounds - both season highs - in 28 minutes of action.
Now that Huelsman has the consecutive games started record all to himself, he was tied for the record with St. Marys graduate Mark Ashman, the UD post player said it is an honor, but it wasn't a situation where he was counting down the days until he broke it.
"I really haven't been thinking about it since people started asking me about it," said Huelsman, who earned Player of the Game honors for his performance on Tuesday. "It's a great accomplishment and I take a lot of pride in it, but other things come first."
Huelsman has been a stalwart of head coach Brian Gregory's lineup since making his way down I-75 to Dayton. Huelsman became a starter from the opening game of his freshman season and never left the starting lineup.
Playing game in and game out is a remarkable feat, especially with a longer schedule than in high school, as Huelsman has been able to avoid potential injuries.
"You really have to take care of yourself, on and off the court," said Huelsman. "You really have to work on getting your rest, getting treatment and eating right. A lot of that stuff, you can get away with in high school, but college is so long and so hard on your body."
Huelsman had a strong performance on Tuesday night, scoring the opening basket after an offensive rebound, and finishing a perfect 4-for-4 from the field while making both free throws to go with his nine rebounds - three offensive - and a blocked shot. Huelsman ranks second on the team in field-goal percentage at 53.7 percent.
"I just try to go in and play as hard as I can," said Huelsman. "I've been trying to be super-aggressive on both ends. A lot of good things come off shots."
Defensively, Huelsman shut down Rams' 7-0 center Will Martell, who came in averaging 6.6 points per game, holding him scoreless while he was on the floor. Martell's only bucket of the game came with Huelsman on the bench.
"In A-10 play, the margin of victory is so little," said Huelsman, a reference to Tuesday's one-point loss and Saturday's loss to St. Joseph's by a point. "If you can take away someone like that (Martell) that averages a little bit, that might fly under the radar. That's a big help for us."
"Kurt played exceptionally well tonight," said Gregory. "Nine rebounds, which is great and 10 points. That's definitely a positive. Obviously, he did a nice job defensively as well."
Huelsman came into Tuesday night averaging 4.2 points and 3.7 rebounds per game for his career and is more known for his willingness to do the little things while playing his usual great defense in the paint.
Although some of the other players might get the camera time and notoriety for their flashier play, Gregory acknowledges that Huelsman is a key member of the team.
"The guys who understand the game, value the game and evaluate the game, they understand his value," said Gregory. "His stuff is being done in the trenches and maybe not as noticeable to anybody else. It is to the most important people.... His teammates and his coaches."
The season could bring even more honors for Huelsman. With 120 consecutive games played, currently fifth all-time, Huelsman can tie the record for consecutive games played of 125 on Feb. 18 at UD Arena against LaSalle and break it Feb. 21 at Duquesne. A long run in the A-10 tournament and a postseason appearance in the NCAA or NIT would also allow Huelsman the chance to tie or break the career record for games played, currently 133 held by Nate Green.
Huelsman, however, is taking it in stride.
"For me, stepping up in a game like this, it only helps the team," said Huelsman. "It opens it up. That way, they have to guard one more player on the court. They really can't focus on all our other guards or even just the four other people on the court."