Thursday, January 28th, 2010
Nik no longer sharing patrol car
After serving St. Marys Police Department, dog retires to life with his family
By Janie Southard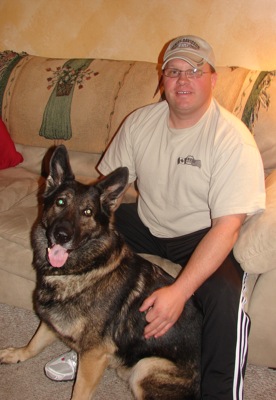 ST. MARYS - After five years on the police force, the department's old dog has retired and is now home with the kids playing like a young pup.
City police K-9 Nik, now 9-years-old, put in his last day in mid-January. The dog was purchased from the city for $1 by his handler, Patrolman Andy Liming, who talked with the newspaper on Monday.
"This is my first week without him and it really feels funny. I'm so used to having him in the car with me, sometimes with his face right next to me. It's hard to leave him at home, but he's adjusting pretty well. But I'm sure he wonders what's going on," Liming said adding Nik is waiting at the door for him every day.
Born in Germany, Nik was selected for police training at Von Der Haus Gill Kennels near Wapakoneta by nationally-known police dog trainer Al Gill. Chosen by Liming from a class of 55 dogs, the St. Marys K-9 handler has never regretted his choice.
"I liked him right away because he's very smart and very social, plus he just seemed a little more mature, if you know what I mean. My kids loved him from the beginning," Liming said.
K-9 unit dogs typically live with their handlers, according to Liming, so it's very important that they can get along well with the family. Nik is a good looking, powerfully-built animal, who could do a whole lot of damage if he wanted to; but he knows somehow when he's "on the clock" and when he's not.
"We've done more school demos together than I can count, and always someone will ask if he bites. Well, sure he bites, that's part of his job, but at home, off duty, he's our pet," said Liming, who has trained with Nik routinely to keep up to date throughout the five-plus years. The officer himself is now a master trainer and helps out at Gill's kennel.
Nik's one officer whose bite is a lot worse than his bark, a number of culprits have discovered first hand.
"We got a call about a vehicle at the Shell station. Turned out it was stolen and we caught up with it in Moulton where it crashed not too far from a woods. There were three people in the car and we caught one guy trying to get away," Liming said.
Nik tracked that guy to the woods, found him and bit him on the butt.
"Nik doesn't grab and chew. He does what we call a bite and hold. In this case he held onto the guy's butt until I got there and called him off," he continued.
A second guy got scared of the dog and just gave up rather than become the next bite and hold victim.
"Unfortunately, the third person got away while we were doing all the other stuff," said the handler, who proclaimed Nik to be one of the best K-9 officers around.
Liming won the county's 2006 Police Officer of the Year award and gives credit to Nik's help to get the award. "A lot of it is the effect he's had on local drug trafficking. An informant told me that drug traffickers didn't want to even drive through St. Marys once we got Nik," he said.
When the duo, man and dog, were in their prime, Liming said he'd put them up against any other team in the state.
"But now keeping a K-9 is becoming a burden on the city. We have 16 hours of training a month, which the city has willingly paid for. We've have great support from the council and chief (Police Chief Greg Foxhoven).
"When we started, Nik was the only K-9 around. Now it seems everybody's got a dog so we can easily borrow a dog and handler if we need to," Liming said, adding police dogs are great tools and are capable of great accomplishments.
"Maybe city funds will improve and we can get another dog in the future. I can tell you one thing: Nik earned his keep," Liming said.

A grateful city:
At Monday's meeting, St. Marys City Council members passed unanimously a resolution in appreciation for K-9 unit Nik's protection service to the community.
"Nik has been directly involved in numerous arrests throughout his career, including trespassing, disorderly conducts, domestic violence, narcotics, thefts, armed robberies, etc.," the resolution states.
It further commends the "K-9 Team of Patrolman Andy Liming and K-9 Nik for their contribution to the protection and safety of the citizens of St. Marys."
Safety Service Director Tom Hitchcock told council that Nik will not be replaced, and, with council's authorization, Liming will purchase Nik for $1, which includes any equipment relating to the care of the dog.
Liming had said prior to the council meeting that although Nik is slowing down he's a great family pet. "I hope he'll be with us for many years," he said. "I really miss working with him, but he's waiting for me at the door every day when I get home."
- Janie Southard