Monday, February 8th, 2010
Local citizens find out what it's like
Overnight in jail
By Margie Wuebker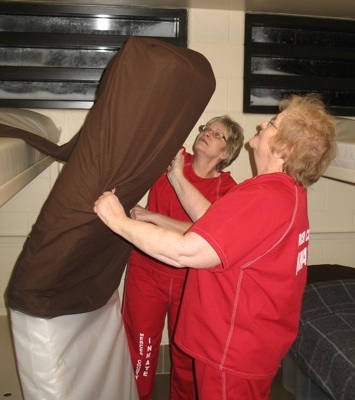 The heavy door closes with a clank, leaving freedom and creature comforts on the other side for 24 people chosen as practice inmates at the new Mercer County Adult Detention Center.
"You come to jail with nothing we don't provide," Sheriff Jeff Grey tells new arrivals about to embark on the intake process Friday night.
One by one, they take turns at the booking desk stripping off jewelry, including rings and wristwatches. Then come street clothes, starting with coats and ending with socks/knee highs and shoes. Practice inmates keep their underwear; those serving real sentences will not have that privilege. Everything goes into clear plastic totes with white lids bearing tape imprinted with the owner's name for safe keeping.
Women get red, two-piece uniforms while men receive togs befitting the nature of their offense - beige for misdemeanors or orange for felonies. Those 18 to 20 years old wear forest green pants with the shirt color denoting their transgression. Black clog-type shower shoes complete the ensembles.
Corrections officers instruct new arrivals to pick up a tote containing everything they need - a brown sheet resembling an oversized pillow case, a gray tweed blanket, a royal blue towel and a beige plastic cup. A plastic bag holds a small bar of soap, a beige toothbrush, a small tube of toothpaste and roll-on deodorant appropriately called Maximum Security.
With photos and fingerprints duly taken, the time comes to stop by the nurse's station for a blood pressure check and a series of health-related questions. Then it's on to the dormitory through more locked doors.
The two-tiered dorms include single cots and bunks equipped with mattresses. There are no pillows; just a slight wedge firmly attached to one end. Stainless steel appointments include tables with attached seats and bathroom fixtures.
"Don't sit on your bed," Darke County Municipal Court Judge Julie Monnin warns her fellow inmates with a giggle. "Or you will hear the voice of God. I figure it has to be God, because I didn't see anybody and the sound came through the speaker in the ceiling."
It seems the judge sat on her bed to await other volunteer inmates when a corrections officer ensconced in the control room behind one-way glass informed her of the infraction.
"As a judge who orders defendants to jail, this is an opportunity of a lifetime for me," she said. "I look forward to gaining insight in this process that I would otherwise never get to experience. It's on-the-job training at its best."
Court Clerk Jeanette Royer rolls her eyes when asked about her motivation to apply to the volunteer "term" before replying, "The judge referred to this experience as girls' night out and she promised to pay for everything. So much for big-time spenders!"
Rita Suhr and Celina Mayor Sharon LaRue, self-proclaimed partners in crime, struggle to pull the sheet onto the unwieldy mattress. They also volunteered to experience life behind bars - oops 16 sections of reinforced glass - and the maze of locked doors.
Chatter fills the two-level dormitory while in another hall Mercer County Commissioner John Bruns plays cards with dorm mates Matt Walker, a Coldwater emergency medical technician and Montezuma firefighter, and Joe Brackman, a police academy student at Wright State University-Lake Campus. The plastic cups on the table contain nothing more than water with nary a salty snack in sight.
Bruns admits he and fellow commissioners approved countless bills for the 110-bed facility. He believes this will be his one and only stay.
"Life in here is boring at best," Dan Uhlenhake says. "We have a television without a remote because somebody else selects what we watch and chairs without backs. I could really go for a recliner at this point."
Back in the women's dorm, Celina Intermediate School Librarian Barb Vorhees laments about checking her privacy, as well as her pride, at the door. She laments having no wrist watch, so Monnin grabs a pen from The Daily Standard reporter and draws a rather attractive timepiece on the woman's arm. Unfortunately, the hands remain frozen at 5 p.m.
"Light's out" the unseen corrections officer orders over the intercom at 11:30 p.m. The television goes off while many of the lights remain on providing nearly enough illumination to read a book or a magazine if such materials were available.
For someone accustomed to a pillow-top king-size mattress, the bunk provides little comfort and it seems rather disconcerting knowing someone in the control room is watching. Officers visit the dorms hourly for a required walk-through. Clanking doors follow their progress up and down the corridors. No one creeps to and from the bathrooms unheard, as the telltale flush is enough to jar even the soundest sleeper.
The 6 a.m. rise and shine order comes after what seems an eternity, giving inmates an opportunity to move about before breakfast - cornflakes, muffin, milk and orange juice - arrives on plastic trays. Drinking from the juice box takes some practice since inmates get no straw.
The offer to clean the dorm garners unanimous approval; only later do inmates learn participation earns television privileges. Several inmates eagerly volunteer to work in the kitchen and laundry as a means of escaping to another area if only for a little while.
Minutes seem to tick by slowly before and after lunch - hamburger, two slices of bread, green beans, lettuce salad, mandarin oranges and milk. Walking around the dorm provides not only exercise but a chance to escape the hard stainless steel seats until dinnertime with a menu consisting of macaroni and cheese and a cold meat sandwich.
"It's no wonder inmates sometimes get into disagreements," volunteer Joyce Conrad says. "Boredom sets in and problems develop. And we're only here for a day."

Sheriff reviews training sessions at new jail:
Mercer County Sheriff Jeff Grey and jail administrator Lt. Jodie Lange met late Saturday afternoon to compare notes on the first of two training sessions featuring "practice" inmates at the new Mercer County Adult Detention Center.
"The practice went well and we identified some things that need to be addressed," Grey said.
One surveillance camera yielded blurry footage from one dormitory. It will be repaired or replaced before the next practice Feb. 19.
Another oversight involved failure to post rules on the dormitory walls with Lange noting that will be corrected in the coming days.
"Mother Nature threw us a curve ball in terms of weather," Grey added. "We had to send out four-wheel drive cruisers to get the cooks, but meals still left the kitchen at the right time."
Jail officials will be talking to court personnel in the coming weeks to determine if inmate workers will receive some incentive in terms of time off for good behavior, as is the case in other counties.
There is currently a lag between the time a corrections officer pushes a security button to access dormitories or leave one area en route to another. The elapsed time will decrease as officers become familiar with the control panel.
"The practice went well," Lange confirmed. "We learned a lot so everything will be in readiness when the 'real' inmates arrive Feb. 28."
- Margie Wuebker