Monday, February 1st, 2010
Reds Caravan makes a short stop at Celina
By Gary R. Rasberry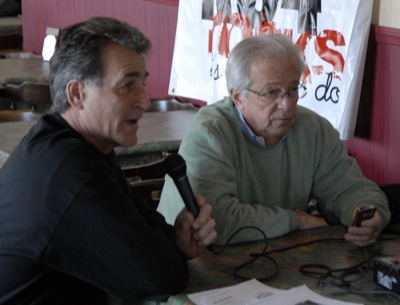 Thirty-plus years since his first excursion, Marty Brenneman still doesn't mind getting in a motor home and criss-crossing the state to meet fans.
The long-time radio voice of the Cincinnati Reds was part of the Reds Caravan that made a short stop in Celina at Bella's on Saturday, getting a chance to meet fans, sign autographs and chat with the area media about all things Reds.
"It's a labor of love for me," said Brenneman, who earned the Ford Frick Award for his contributions to broadcasting games in 2000. "I enjoy it. I've been on every caravan this club has had since 1974. I never get tired of it, although, it is a grueling four days. By the time Sunday afternoon rolls around, you're ready to sleep for 10 hours.
"I enjoy getting out to areas distant from Cincinnati. We were in Findlay earlier today, we're here in Celina and we're going to Lima. It's nice to know the interest and support in this baseball team is as big as it is every place we go. There are no exceptions where we get back on the bus and say 'You know what? We never want to go back there again.' It's been good everywhere we've been."
It's not surprising that the crowds are big whenever one of the three Caravan groups - Brenneman's group featured Reds television analyst Chris Welsh, Gold Glove-winning second baseman Brandon Phillips and Assistant General Manager Bob Phillips - pulls in for a stop.
"Amazingly, more. When you consider the fact that this team has not had a winning season since 2000," said Brenneman. "For the fans to maintain their interest, I learned a long time ago if you have a losing team, they may not come to the ballpark, but they'll turn that radio on or turn that television on. A fan is a fan."
Brenneman is amazed when fans bring up memories of the Reds over the years, especially about games from the past.
"I've had people tell me 'You remember that game at Riverfront in 1981?' I don't remember yesterday," said Brenneman with a laugh. "I'm amazed at people like Joe Nuxhall and (Longtime Dodgers announcer) Vin Scully, who have great recall of something that might have happened in 1954. I just have to keep going and make my way day-by-day. I don't remember what happened 20 years ago."
Among the topics talked about on Saturday was the signing of Cuban pitcher Aroldis Chapman. Brenneman thinks he can make an impact, but the re-signing of catcher Ramon Hernandez was an even better deal.
"In Chapman's case, it was too much of an upside for the Reds to pass up," said Brenneman. "I would be surprised if he made the club out of spring training, but I would also not be a bit surprised that he's up before the season is over with. You can't ignore a power arm like this kid's got.
"The return of Ramon Hernandez is huge. Catching could have been a major problem for this club had they not re-negotiated his contract, which they did. I think in the short term, Hernandez was a bigger acquisition than Chapman, but I think in the long term, Chapman's got a chance to be an outstanding pitcher for this club."
One change the Reds will make this season is moving their spring training from Florida out to Goodyear, Arizona. Brenneman, never one to shy away from offering his take, will miss the Sunshine State.
"I don't think there's a better place to train than Sarasota, Florida," said Brenneman. "For me to tell you I'm thrilled to death about leaving there and going to Arizona would be a lie. I love Sarasota, but it is what it is. We've got to go to Arizona and we will make the most of it. It'll be fine, the weather is much more consistently good out there. Clubs are closer by a whole bunch out there than they are in Florida. It'll be an adventure."
One would think that Brenneman having his son Thom, who worked for several years calling Arizona Diamondbacks games before joining his father in the Reds' booth, would be a help in getting to know the area.
Guess again.
"Doesn't help me a bit. He's staying about 40 miles from me," said Brenneman, drawing a laugh from nearby fans. "I wanted to stay in a place near our complex. He wanted to stay in Scottsdale and drive 45 minutes each way every day. That's not what I wanted. I'm too old. I get up mad everyday looking at a ride like that."