Monday, February 15th, 2010
Celina's Dues wins third WBL title
Western Buckeye League Wrestling Championships
By Gary R. Rasberry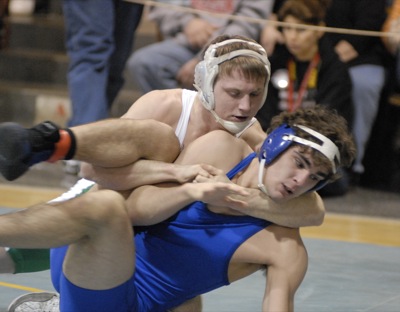 BATH TOWNSHIP - At the start of the season, Celina wrestling coach Tim Doner said that while his team would struggle in dual matches due to low numbers, tournaments would bring success for the MatDogs. Celina went 4-5 in league duals on the season, but won three tournaments.
Doner's words rang true again on Saturday at the Western Buckeye League Wrestling Championships at Bath, as six Celina wrestlers competed for titles.
The MatDogs brought home two titles and finished a respectable third in the tournament with 136.5 points.
The battle for the tourney title was a two-horse race between regular-season champ Wapakoneta and the host Bath Wildcats. In the end, Bath edged out Wapak, 175-174, to win the tournament and share the overall WBL title with the Redskins. Only Van Wert (102.5) and Shawnee (101) were able to join the other three teams in triple-digit scores. St. Marys, which had two wrestlers go for titles, finished ninth in the tournament.
"We had some surprises, some disappointments," said coach Doner. "Next week (at the sectional tournament), it'll be about the same thing. Hopefully, we'll improve from this."
For Celina senior Alex Dues, his quest to try and win a third WBL title - and second at 152 pounds - took a unique road.
After pinning Van Wert's Jordan Mohr in the first bout and Defiance's Clay Roehrig in the semifinals, Dues was ready to face Bath's Wally McGinnis, who was ranked first to Dues' second in the Lima Area Wrestling Coaches poll this week.
But when it came time for the 152-pound title bout, Dues came out, but McGinnis, who appeared for the introductions before the finals, did not. Dues captured his third league crown with a simple raise of the arm.
"It feels good," said Dues of winning his third league title. "I didn't want to win by forfeit, but it happened, but at last I can say I'm a three-time champion. That makes me happy."
Celina's first title came at 135 pounds as Curtis Doner took on St. Marys' Sean Barnett in a close battle. Doner got the early lead, then held off Barnett 8-6.
"I beat him 3-2 the first two times (they faced)," said Doner, who was the WBL runner-up at 103 pounds in 2008. "This time, we just decided to switch it up a little bit, scramble a little bit and make it more interesting."
The Minch brothers, Derek and Alex, came up with strong showings during the tournament to make championship finals.
Derek Minch faced off against Ottawa-Glandorf's Jeff Siefker in the 160-pound title bout. Siefker was able to catch Derek Minch off guard to take him down and score the quick pin in 38 seconds.
Alex Minch had a tough contest against two-time defending 215-pound champion Logan Erb of Wapakoneta. Alex Minch staved off all of Erb's attempts to score a pin, going the distance in a 12-7 loss by decision.
"Alex made it to the finals with a good WBL record," said coach Doner. "That was pretty good."
Codey Welker looked to go out a champion as he took on Wapak's Brad Fleck in the 285-pound title bout. The first two periods were close, but Fleck caught Welker midway through third period to score the pin in 5:07.
The fourth Bulldog to bring home runner-up honors was Chad Braun, who battled Bath's Matt Hefner in the 140-pound title bout. Hefner, who was WBL champ at 135 pounds the two previous years, earned his third WBL title with a 17-1 technical fall over Braun.
The only other MatDog to wrestle for placement was Zach Cozadd at 145 pounds. Cozadd faced O-G's Draven Delgado in the third-place bout, losing via pinfall at 4:40 to finish in fourth place.
St. Marys' other championship qualifier was Tanner Zizelman at 130 pounds. Bath's Josh Calkins dominated, shutting out Zizelman to win 10-0 to take the title.
Roughrider Braedan Miller was able to go out a winner, capturing third place at 125 pounds with a pinfall win over O-G's Mathias Klausing in the consolation bout. Neil Perry was defeated in the third-place bout at 171 pounds, falling 6-1 to Beau Bowdle of Shawnee.
Of the other notable matches at the WBL, Defiance's B.J. Miller became a four-time WBL champion in a wild 119-pound title bout against Wapak's Jake Beemer, the third time the two have wrestled for a WBL title after Miller beat Beemer in the previous two 112-pound title bouts.
Beemer had a 6-4 lead in the final 30 seconds against the undefeated Miller, but Miller scored a reversal and had Beemer's back to the mat, scoring the pin with 2/10 of a second left in the match to go to 22-0 on the season.
Things will look familiar for most of the WBL teams this Saturday as the Division II Shawnee Sectional will feature all WBL teams except Ottawa-Glandorf, which will be at LCC for the Division III sectional. Fostoria makes the trek down to Shawnee to round out the 10-team event.