Saturday, February 20th, 2010
Bulldogs back on winning track
By Ryan Hines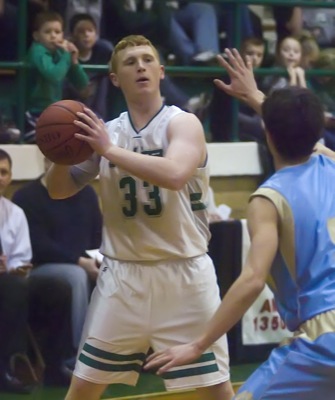 After losing back-to-back games for the first time of the season, Celina played like a team that was determined to make sure there wasn't going to be a third straight loss.
Celina was in control from the opening tip and led wire-to-wire in a 70-45 win over Lima Bath at the Fieldhouse on Friday night in Western Buckeye League action.
"Our guys came out really focused and determined to get back to playing the way that we can play," said Celina head coach Chris Bihn. "We came out strong and stayed consistent for most of the game."
The Bulldogs dominated the Wildcats on Celina's senior night and the statistics reflect why it was such a lop-sided score.
Celina (12-6, 6-2 WBL) shot 57 percent from the floor (28-of-49) while also outrebounding Bath (10-7, 4-4 WBL) by an astounding 36-18 margin while the Wildcats only shot 17-of-48 from the field (35 percent).
"They physically took it to us and they were more aggressive than we were," said Bath head coach Doug Davis. "In basketball, it seems that 90 percent of the time, the team that is more aggressive wins. Before the game, I was asked for a key to tonight's game and I said that it was rebounding and we weren't able to get it done tonight."
The Bulldogs opened the game with an 11-2 run, but the Wildcats responded with a 9-2 spurt covering the final three minutes of play in the first quarter to the 6:40 mark of the second quarter to pull to within four points of Celina at 15-11.
Celina's efficient execution on offense was evident when the Bulldogs went on an 11-0 run that put the home team comfortably in front, 26-11. Darin Waterman scored five points and Mitchell Ross added four points during the spurt as eight of the 11 points were scored on layups.
"They came out and tried to pressure us and we were able to get some back cuts on them and score some layups," said Bihn. "We did a good job of recognizing those cuts when they were there and then finishing them when we got to the basket."
The Bulldogs went into halftime up 12 points at 34-22 and the only reason why Bath was still relatively close was because of the play of Brad Davis, who hit four three-pointers and had 16 points in the first half of play.
It was a different story for Davis in the second half as the sophomore guard went scoreless while missing his only four shot attempts.
"We did a good job on him (Davis) defensively the whole game, but he got three or four open looks off of our press and we just made an adjustment to make sure we located him at all times in the second half," said Bihn.
Waterman, who didn't score in the first quarter, came alive in the second quarter with six points and led the charge in the third quarter for the Bulldogs as Celina's lead expanded to as much as 19 points. Waterman scored nine of his game-high 17 points in the third quarter and helped ignite another 11-0 run to put Celina on top 47-29.
Celina really concentrated on pounding the ball into the post in the fourth quarter as Greg Riemesch and Kahl LaRue enjoyed their height advantage on Bath's frontline. Riemesch scored seven points and LaRue added six more in the first six minutes of the final stanza alone and helped pad the Celina lead to over 20 points for nearly all of the final quarter of play.
Waterman's 17 paced Celina but the Bulldogs had a balanced attack as Ross came off the bench to score 14 points while Nate Bihn contributed 12 points. Riemesch and LaRue added nine and eight points, respectively.
"I wasn't happy with our defensive performance tonight," said Davis. "We knew that they were going to try and attack us inside and that's exactly what they did and did a good job of it."
Davis' 16 points in the first half paced Bath as no other Wildcats player scored more than seven points.
Celina closes out the home portion of its schedule tonight with Lima Central Catholic visiting the Fieldhouse.