Monday, February 22nd, 2010
Fatality at CAPT
Technician worked at local plant more than 10 years
By Margie Wuebker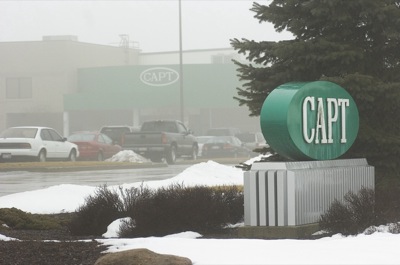 A 58-year-old Van Wert County man died Sunday afternoon of injuries sustained in an industrial accident at Celina Aluminum Precision Technology Inc.
Mark A. Fennig, of Van Wert, was pronounced dead on arrival at Joint Township District Memorial Hospital in St. Marys.
Mercer County Sheriff's deputies and paramedics from the Celina Fire Department responded to the plant at 7059 Staeger Road after receiving a 911 call at 1:38 p.m.
Fennig, an equipment service technician, was reportedly working on a water passage machine when he apparently became entangled in the machine, according to Sheriff Jeff Grey. The initial investigation indicated Fennig's hard hat had been knocked off and he reportedly sustained visible head injuries.
Deputies completed their investigation and contacted the Occupational Safety and Health Administration (OSHA) investigators, who arrived at the scene at 7:30 p.m. Sunday.
"Our thoughts and prayers are with Mr. Fennig's family and friends at this time," said Dennis Lee, assistant vice president at CAPT. "He worked here for more than 10 years."
Beginning with the third shift on Sunday and continuing through today's first shift, company officials gathered employees together to update them on the tragedy. Grief counselors were on hand for co-workers who felt the need to talk with someone. Lee added counselors will be available for follow-up as needed.
Lee declined to answer questions directly related to the accident, saying OSHA representatives from the Toledo office are involved in a comprehensive investigation.
Julie Hovi, a spokeswoman at the Toledo office, indicated the first step in the investigation involves gathering facts and analyzing the initial investigation from the sheriff's office. Also included in the process are interviews with managers and the victim's co-workers.
"Our investigators will determine what happened and how to prevent something like this from happening again," she added. "I have no more details at this point because there has not been a briefing as yet."
Lee and Hovi said the incident marks the first loss of life stemming from an accident at the plant, which supplies automotive parts for Honda Foundry, its parent plant.
CAPT has one recorded incident resulting in a penalty from OSHA. It occurred back in August 2002. There have been none since that time, according to the OSHA Web site.

CAPT:
Celina Aluminum Precision Technology Inc., CAPT, is located at 7059 Staeger Road, east of Celina.
The company uses state-of-the-art technology to manufacture automotive components for Honda Foundry, its parent company. The Celina plant is the sole North American location for Honda Foundry's engine component manufacturing.
Groundbreaking for the plant took place Sept. 21, 1994, with the mass production of pistons commencing Jan. 19, 1996. Manufacturing efforts aimed at cylinder heads and water passage assembly components began later that year and in 1998.
Employment figures listed on the MANTA Web site list the company as having less than 500 employees.
The last incident at CAPT investigated by OSHA took place in August 2002. Although listed as serious, it did not involve loss of life. The company received an initial penalty of $1,125 with an informal settlement of $500. The OSHA Web site does not provide details.
-Margie Wuebker