Friday, February 26th, 2010
Success has followed Moeller to Ohio State
By Gary R. Rasberry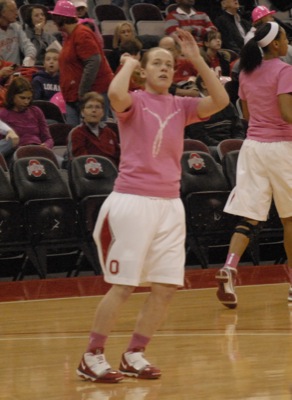 COLUMBUS - Since she first stepped onto a basketball court as a high school freshman, Maria Moeller has had success.
Winning a state title as a freshman and continuing to earn accolades and honors throughout her high school career have come numerous times to the Marion Local graduate.
Things did not change when she headed to college.
Moeller will depart Ohio State after this season as being a part of one of the most successful Buckeye women's basketball teams of all time.
Moeller, who played her final home game on Thursday night, a 78-47 win over Northwestern, has been a member of four of the six consecutive regular season Big Ten titles and has played in three NCAA tournaments with a fourth trip pretty much a given this season. The Buckeyes also captured the season-opening women's NIT.
"That was a big thing for us. Winning four in a row is a great accomplishment, and being part of history," said Moeller after Sunday's overtime loss to Michigan State. "Going out on top is a big plus."
The senior co-captain, now a key sub off coach Jim Foster's bench, is happy to have been a key figure.
"This is my fourth year here, so I know what's going on," said Moeller. "My role is just for the younger players and underclassmen to get them used to the college play. Let them know what they need to do and basically being a leader on the floor."
Moeller started every game as a freshman for the Buckeyes, but the last three years has served as a sparkplug off the bench, backing up sophomore guard Samantha Prahalis the last two seasons.
The Buckeyes are solid, led by defending two-time conference Player of the Year Jental Lavender and Prahalis.
"It's great to have them part of your team, especially (Lavender and Prahalis), because they get you going and can do a lot of things on the court," said Moeller. "It's makes the team better playing with two great players like them."
Moeller averages 12.4 minutes per game for the Buckeyes, tallying 3.0 points per game. In her final home game on Thursday, Moeller had nine points and two assists in 16 minutes of play.
With the Big Ten tournament starting next week in Indianapolis, the goal for the team and Moeller is to go into the NCAA Tournament with momentum.
"We're looking forward to finishing the season off right, then going to the Big Ten Tournament (in Indianapolis), showing people what we're made of and just playing our kind of basketball," said Moeller. "Then going to the NCAA with momentum from the Big Ten Tournament and just going from there."
As for plans after her college career ends, Moeller's plan is simple: to find employment in her field.
"I may look into coaching, but I'm in Human Resources, so I'm just looking for a job, somewhere in the business world, so I'm not really sure where at yet," said Moeller.