Tuesday, February 9th, 2010
Staugler is honored for his many contributions
By Gary R. Rasberry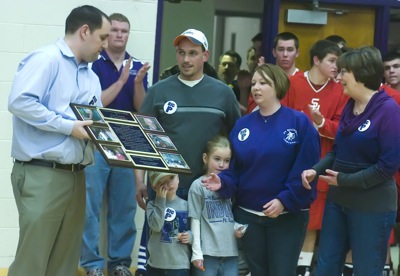 FORT RECOVERY - When Monday's St. Henry-Fort Recovery boys basketball game ended, one had to think that Paul Staugler was watching from above, with a grin on his face.
Staugler, the longtime voice of the Indians who passed away last year after a battle with cancer, was honored before the game as a public address system that was purchased through contributions from a memorial fund set up after his passing was dedicated in his honor.
Fans from both schools sported buttons that sported his nickname, "Big P." The Indians - players, coaches and other team personnel - sported team warmup shirts emblazoned with "Big P."
During his heyday, Staugler helped make Fort Recovery football and basketball games memorable for being informative - highlighted by his unique pronunciation of "shooting.... twooooo" when a player went to the foul line. Staugler was also funny at times, like when he bantered with halftime free-throw shooting contest participants, occasionally uttering that some shooters had "a snowball's chance in Hell" in making a shot and also warning fans that it snowed six inches during the game, only to discover that all was clear.
"He means more than just basketball," said Fort Recovery Athletic Boosters President Greg Schmitz, who presented Staugler's family with a plaque before the varsity game. "He means a lot more as far as things that he's done for the community. He was a great announcer. Everyone remembers his saying the names like Guggenbiller (pronounced by Staugler as GOOOOOG-en-Biller), the different names he would do and the character that he was. First of all, he was a very good person and a big asset to the community."
In his passing, contributions were made to the Fort Recovery Athletic Boosters and State of the Heart Hospice through the Paul Staugler Memorial Fund.
When the Booster Club thought about what to do with the money, the answer was simple.
"When we got the money, it was pretty easy what to do with it," said Schmitz. "We thought 'We gotta do a PA system.' "
The date to honor Staugler was set with St. Henry's trip into town. Staugler had many friends in St. Henry - not to mention everywhere else in the area.
"It's fabulous to see this kind of tribute to him, said Kathy Staugler, Paul's wife of over 30 years. "No one was his enemy. Everyone was his friend. The fact St. Henry was the game tonight made it extra special, because he had so many friends in St. Henry and Fort Recovery."
While there was no need to kid about any snow outside (Mother Nature took care of that last weekend, and will likely do so again today), Kathy Staugler couldn't help but offer that Paul was doing what he could to help his team get toward the 48-46 win over the rival Redskins.
"Paul couldn't do the snow right, to get the inches right," said Kathy Staugler. "But I think he kind of touched his hand at the end of the game tonight."