Monday, March 1st, 2010
Tracking scent to retirement
Celina's K9 unit to go out of service in April
By Margie Wuebker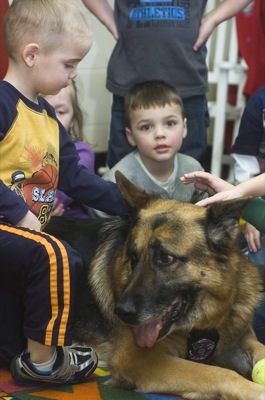 The Celina police officer gets out of the cruiser gingerly and stretches leisurely before snapping to attention at the sound of his partner's voice. Nick, the department's K9 unit, does not move as fast as he once did, but his nose remains a key weapon in tracking down offenders - adults who break into business establishments and juveniles with a penchant for starting fires.
After nearly 10 years of service, the German Shepherd will retire April 16 and let Ted, a younger recruit, take over duties related to protecting the citizens of Celina and making numerous appearances at schools.
"We've been together a long time," Patrolman Dan Harting said, petting the docile 11-year-old that turns into a crime-fighting machine upon command. "I joined the department in 1996 and Nick came in 2000."
Nick blazed a trail as the department's first K9 unit, and assisted in the apprehension of numerous suspects over the years. He has left his mark - or rather his teeth marks - on just two individuals over the years.
"Nick is a highly trained police officer," Harting said, pointing to the official badge suspended from the canine's collar. "He's only got two bites on his record. One involved an escaped felon and the other a young man who hit me outside the Knights of Columbus Hall a few years back."
He put his nose to the ground following a suspicious Jan. 18 fire at the former Grand Slam USA Family Fun Center. Two brothers, ages 11 and 15, were charged with arson as well as breaking and entering, after Nick successfully tracked them three blocks from the fire scene to a Meadowview Drive apartment complex. Their cases are pending in Mercer County Juvenile Court.
"Nick's tracking skills are good but he can't run as fast anymore," Hartings said. "It takes him longer to recover after a track."
The dog has suffered no injuries over the years. His sense of smell remains keen when it comes to sniffing out tennis balls, drugs and occasional dog treats, but age has caught up with him in the form of arthritis, hip dysplasia and prostate problems.
Nick's mission these days is to show Ted the ropes. Sometimes the energetic 11/2-year-old pup is more than he can handle.
Harting returned several weeks ago from Germany with Al Gill of Von Der Haus Gill Canine Academy near Waynesfield. They brought back 15 dogs, including 11 bound for duty with the Illinois State Police.
"Ted was not my first pick," Harting admitted with a smile. "I went to the kennel the next day and my first pick seemed skittish after the long trip. The stress caused him to bite one guy. I quickly narrowed the selection to Ted because he rebounded so quick from the trip and he reminded me a lot of Nick."
Six weeks of training leading to state and national certification await the medium-sized German Shepherd, who is considerably smaller than his mentor. Police dogs must respond immediately to the commands of their trainers. All of those commands are delivered in German, such as "platz" for sit or lay, but hand signals also are used because there are times when voice commands could tip off criminals hiding inside a building.
Students at Creative Discovery Preschool in Celina had an opportunity to meet both dogs last week.
Nick seemed happy to lay on a rug while nine pairs of hands caressed his sleek coat, only to be replaced by nine more pairs in short order. He showed no aggressive tendencies and only barked upon a hand signal from Harting.
Chief Dave Slusser watched the obvious display of affection with a satisfied smile. The veteran dog obviously relished the attention.
"This is the number one priority for our dog," he said flashing a smile. "He has to be well-trained and social, showing no aggression toward children and adults. Ted, like Nick, will make many public appearances and he has to be on his best behavior."
One little boy tried unsuccessfully to get Nick to roll over. Harting chuckled before pointing out "Rolling over is one trick K9 units don't learn," he added. "It wouldn't be good if they rolled over for a bad man."
Nick faces some adjustments in the coming weeks, particularly when Harting and Ted head off to training and he stays home.
"We've been a team for nearly a decade," Harting said. "And we will continue to be a team off duty hopefully for a lot of years to come."
City council is expected to approve an ordinance in the coming weeks allowing Harting to purchase Nick for a token dollar, so he can continue residing with him, his wife, Linda, and their five children. Loneliness should be the least of the animal's worries.