Tuesday, March 2nd, 2010
No kidding, more meat goats raised
By Nancy Allen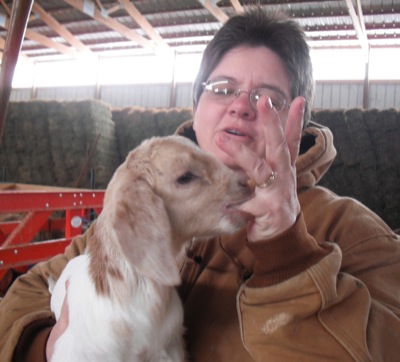 Even before she opens the barn door, Theresa Howick can hear the baby goats inside calling to her.
Once she enters, all eyes are on her. A few of the babies that have escaped their enclosures trot up to her. She picks up one and it sucks her finger.
"They just make you smile the way they look at you and the way they prance around," she said recently at the Howick family farm north of Celina. "They all have just wonderful personalities. They love people."
As cute as they are, the reason she raises them is for food, and most are ultimately destined for the dinner table.
Howick is one of a growing number of people raising meat goats to sell to youths for 4-H projects and for a mostly ethnic and religious market that prefers goat meat.
Between January and March is when the babies, known as kids, are born, typically. This year, Howick's does gave birth to almost 40, including a few pairs of triplets.
When she started raising African boer meat goats in 2004 she had nine. Counting this year's babies, she now has almost 90.
"I researched it for about 11/2 years before I started, and I found out goat meat is eaten by most of the world," she said. "It's considered a poor man's cow because they take much less room and feed. You can raise six goats on what it takes to raise a cow."
Howick sells most of her goats for 4-H projects, followed by those sold into the market. She also sells a small amount as breeding stock for others wanting to get into the business.
The market goats go to a middle man in Greenville, who takes them to a slaughter house. The majority of her market meat goats end up in Columbus, she said.
Rural Celina resident Tom Mann said his does gave birth to about 30 kids this year, bringing his herd to about 50. He first began raising boer meat goats in 2003 and had one goat. By the end of that year he had four.
"We started with milk goats originally, but the kids got tired of doing the milking," Mann said of his children.
This year, most of his goats will get sold as 4-H projects; one family alone wanted six wethers (castrated males). In a typical year, he usually sells more into the meat market.
"Anything that's not bought by 4-H kids by about two weeks before Easter goes to the ethnic market," he said. "I ship them directly to a buyer, a middle man in Ansonia, who sends them on."
Mann said he holds on to his does for potential breeding stock until at least Christmas. By that time, he knows which ones will be good breeders and keeps them and sells the rest.
Meat goats sold before Easter go for between a $1 to $1.50 per pound. These animals are between 30-70 pounds and are between two to six months old.
Mann has two kids, part of a set of triplets, he is bottle raising in a plastic tub in his basement. He keeps a heat lamp on in the tub to keep them warm. Sometimes a mother goat doesn't have enough milk for triplets and the kids are just smaller and need extra care, he said.
The family has its own goats butchered for the loin and chop cuts and some is ground up for sausage making, he said.
"It's really pretty good," Mann said, giving a piece of goat sausage to his 5-year-old daughter, Hope, who readily ate it, but commented it was too spicy.
According to information from the Ohio State University Extension, interest in meat goats has grown rapidly in Ohio during the past 10 years. Goat is the most frequently consumed meat in the world. In the United States, meat goat production is growing because of the animal's economic value as efficient converters of low-quality forages into quality meat, milk and hide products for many specialty type markets.
A big reason for the growing popularity in this country is the amount of ethnic groups who have settled here prefer goat meat, milk and cheese products.
Meat goats are also popular because a small herd may be the only livestock enterprise that a small, part-time farmer can raise efficiently and profitably. In Ohio, goats are growing in popularity as 4-H or FFA youth projects, and many youth are raising meat goats for breeding or show.
Both Mann and Howick say they're not getting rich raising goats, but it provides some additional income.
"It's not like I'm making armloads of money but it's definitely a source of income," Mann said. The longer I'm at it and the more time I have to improve my facility and get my name out there I can sell more."

Goat lingo:
Doe: Female goat
Buck: Uncastrated breeding-age male goat
Kid: Baby goat
Wether: Castrated male goat

Goat meat served during numerous ethnic holidays:
Here is an example of holidays on which goat is traditionally eaten and the type of goats customers look for.
Easter
• Roman and Greek Christian holidays are a week apart (date varies in spring)
• Fleshy kids between 20 and 50 pounds
• Milk-fed
• Greeks prefer kids slightly larger and fat
Passover
• Jewish holiday (date varies in spring)
• 25 to 50 pounds
• Milk-fed and fat
Rosh Hashanah
• Jewish holiday (date varies in fall)
• 50 to 100 pounds
Cinco de Mayo
• Mexican Independence Day (May 5)
• 18 to 40 pounds live weight
• Milk-fed kid
• Goat is also served at baptismal dinners year-round
Navadurgara (also called Navratra Dashara or Dassai)
• Hindu holiday honoring the goddess Durga (date varies in fall)
• Male goats only
• Size depends on the number of people being fed
Id al-Fitr (Feast of the Fast Breaking signaling the end of Ramadan)
• Month-long fast practiced by Muslims (date varies according Islamic calendar and the new moon)
• Male goats
• 50 to 80 pounds live weight
Id al-Adha (Feast of the Sacrifice)
• Muslim holiday follows Id al-Fitr by 70 days
• Unblemished, fully intact male goats
• 60 to 100 pounds live weight
Christmas
• Numerous ethnic groups
• 20 to 45 pounds live weight
• Milk-fed kid
Chinese New Year
• Occurs according to the Chinese calendar, usually in either January or February
• 60 to 80 pounds live weight
Caribbean Holidays
• Several Caribbean holidays occur during August
• Large, smelly bucks preferred