Wednesday, March 3rd, 2010
Maths Day angle brings multiple dividends
By Janie Southard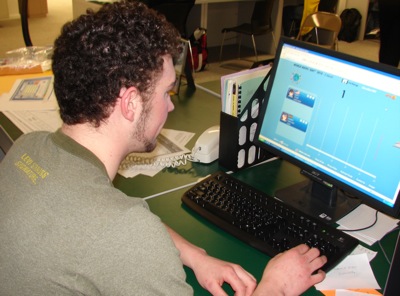 "Do the Math," "Math Up," "Unite in Numbers" - those are today's phrases as the fourth annual World Maths Day gears up. Area students began Tuesday competing in the 48-hour match against students worldwide hoping to see their names in lights, if only for a moment.
Several local students have held a spot in the top 100 world mathletes: Justin Jacobs of St. Henry, Bryant Knapke of Fort Recovery, and many other area students who've been recognized in the fast-changing winners circle.
To participate, the mathletes log on to a Web site where they select a category (addition, subtraction, multiplication, division or simple equations) and then have one minute to answer as many questions as possible. The Web site determines the level of difficulty based on the student's age and skill level. The computer attempts to find other players to compete against at a similar level. Three mistakes and the student is out. The student with the most correct answers in one minute wins.
Last year, 2 million students from schools in 204 countries correctly answered 452.68 million questions on World Maths Day.
The points come fast and furiously as the one-minute challenges end and additional points are tallied. Like on-going video games, the scoring list constantly changes.
World Maths Day is actually 48 hours allowing for the International Date Line. It is called Maths Day because in all English-speaking countries other than the United States the word mathematics is shortened to maths.
Tri Star Career Compact business teachers Lynee Ray, Lisa Sheppard and Richard Murray have students scoring big math points.
One great thing, the teachers say, is that this competition is not only for the math whizzes. Anyone can sign up and there's always practice time for whoever wants it.
"We've been practicing for this for a while and some of these kids have really gotten into it on their own," Ray said Tuesday.
Seniors Elizabeth Braun of Celina and Carla Rutschilling of Marion Local both have been logging on at home since last Thursday to build speed in figuring math problems that an Australian software program determines to be skill-level appropriate.
Both claim math is no big problem, pardon the pun.
"It's fun. (Testing yourself) against people from other countries is challenging," Rutschilling said.
A big part of success is working the keyboard's number pad without looking.
And it's not all about math. It's geography slipping in the back door.
"Right now (1:30 p.m. Tuesday) we've played against students in 75 countries," Sheppard said, naming Afghanistan and Vietnam from the more than 225-plus participating countries.
Clicking on the country's name brings up an info block giving the capital, currency, national day, population and language.
"It's interesting to the kids - Haiti is an example - to realize that with all the problems right now in Haiti that another student with a computer is part of math day," Ray said.