Thursday, March 4th, 2010
Quick yes brings long relationship
Thieman leaves coordinator position after 30 years
By Shelley Grieshop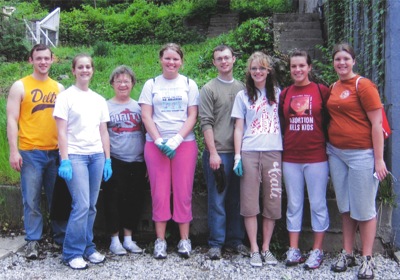 ST. HENRY - A 10-second decision by Linda Thieman of St. Henry turned into a 30-year commitment to area youths.
It was 1979, and the St. Henry Local Schools bus driver was spending a relaxing moment reading a book between routes when she was asked to teach the Catholic faith to kindergarten students.
"I agreed to try it and that led to being asked to do a youth group program," she says.
Three decades later she is preparing to retire as youth group coordinator for the St. Henry Catholic cluster, which includes five local parishes. Her small frame and fun-loving personality have helped her mesh with the young people she's guided through the years.
The Rev. Tom Hemm, senior pastor of the cluster, has begun searching for her replacement. Filling Thieman's shoes won't be easy, he says.
"In our cluster communities, Linda is not just noted for her service in youth ministry. She has a deep-set vocation for service," Hemm says. "Because of her connections with the community, she has a gift for recognizing where there is need for service and outreach and is able to mobilize the people around her to pitch in and help."
Hemm believes that Thieman's years of service with youths has "kept her young in spirit."
"She has an energy level that allows her to keep up the pace in youth activities," he says. "I have the impression that some teens are challenged to keep up with her pace."
Her life appears to be "rooted in prayer and is a powerful witness of faith," he adds.
The success of the youth group under Thieman's watch is evident in its membership: each year she averaged more than 100 children - including many from communities outside St. Henry.
Jodi Buschur Bruggeman, now 39, was once a part of the St. Henry Youth Group under Thieman's reign. She says it's hard to put into words the impact Thieman had on so many.
"She's touched so many lives. It didn't matter if we were straight-A students or if we struggled, if we were athletes or not. The youth group was like a second family," Bruggeman recalls. "She got us involved in so many things. We always felt like we belonged."
Thieman, 64, was "like a second parent" to many students and never judged anyone, Bruggeman adds. Her daughter, Sadie, now a high school freshman, is active in the group and loves it - particularly the "Breakfast Club" program each Friday, she says.
Thieman taught kindergarten students for a year before becoming the youth leader for older children.
"I started out with three kids that showed up for a meeting," she says.
She typically draws an average of 75 high school and junior high students to most activities - and there are many. Community projects include working at the fair and village picnic, performing roadside and stadium clean-up after football games, handing out coffee at the rest area along Interstate 75, chicken fries, Right to Life Marches, serving meals at weddings and helping out at garage sales.
Funds raised from the activities benefit numerous projects and trips for the group, such as the six journeys she's led to World Youth Day gatherings around the world.
"Fundraising is an ongoing project but we never did door-to-door selling," she says. "We tried to do all of our events as community projects."
When asked about her most memorable events, she rattles off dozens. She says her heart was lifted each time she watched older youths working with younger ones. She won't forget taking vanloads of boys and girls to places such as Over the Rhine in Cincinnati, or Appalachia in Kentucky. She still pictures the glowing pride on the faces of youngsters who fed the homeless, painted a house for an Alzheimer patient or marched in front of an abortion clinic in Kettering, she says.
Thieman also is tightly woven in a ministry in Haiti, and has made countless trips to the country including one she embarked on this week. She couldn't take youth group members with her to the poverty-stricken area because of rules set by the archdiocese. However, more than 100 youths have accompanied her at their own expense and she hopes to bring more in the future, she says.
She plans on continuing to teach religion classes and stay involved in the church. She also wants to spend more time with her three children and seven grandchildren - something she's missed out on while devoting her time to the group, she says.
She hesitates to discuss how she feels about leaving the post. The thought often brings her to tears.
"The last six months have not been easy, but being able to see the program move on will be all the reward of many hours, long days, weekends and years that I put into it," she says. "Letting go and letting God is the hard part for all of us."