Thursday, March 11th, 2010
Waterman hits for 28 as Celina slips past Kenton
Division II Boys District at Ohio Northern University
By Ryan Hines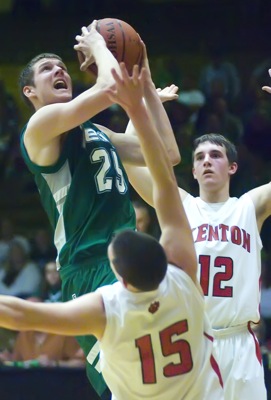 ADA - Darin Waterman helped the Celina boys basketball team erase an 11-point deficit in the first half and the Bulldogs won a district game for the first time since the 1998-99 season on Wednesday night.
Waterman scored a game-high 28 points in leading the Bulldogs to a 58-53 win over Kenton in Division II district semifinal action at the Ohio Northern University Sports Center.
Celina (14-8) now gets a rematch with Elida (13-9) on Saturday night at 7 p.m. with a berth in the Bowling Green State University Regional on the line.
Despite beating Kenton on its home floor by 13 points in their Western Buckeye League matchup in the regular season, Celina needed a come-from-behind performance to keep its postseason hopes alive.
Kenton led by as many as 11 points in the first half, but Waterman pushed the Bulldogs past the Wildcats with a game-high 28 points. Waterman scored a career-high 29 points against Kenton in their regular-season meeting.
"He's (Waterman) got the quickest release of probably anyone that we've played this year," said Rowe. "There were a couple of times where he just came off a screen and stuck it, he doesn't need much time or much room to get his shot off. He played very well on the big stage and played like a leader."
Waterman hit a pair of threes to close the first half and Celina trimmed the double-digit deficit down to one point at 27-26 going into halftime.
Kenton's Curtis Heydinger drilled a three to open the second half for the Wildcats, but Celina then went on a 9-2 run that was capped by a Scott Moeder three-pointer that put the Bulldogs in front 35-32 midway through the third quarter.
Waterman had the last five points of the third quarter for Celina and the Bulldogs entered the final eight minutes of action with a 40-34 advantage.
"They tried to face-guard me the whole game and I had to work really hard to get open and my teammates did a good job of making sure I got good looks and I was knocking them down," said Waterman.
Maty Mauk helped Kenton tie the game at 42-42 with a pair of three-pointers to force a Celina timeout. The Bulldogs then came out of the timeout by forcing three straight Kenton turnovers and Celina turned the miscues into six quick points to jump in front, 48-42.
"We made some lackadaisical passes and weren't mentally focused the way that we needed to be during that stretch," said Rowe. "We had some breakdowns, not sure if it was fatigue or not."
"Our guys have been able to come out of timeouts and stoppages in play and get a surge, they have an uncanny knack for it and at that time they did what they do best," said Bihn.
Mauk wouldn't let Kenton fade down the stretch as he hit two more three-pointers, with the second pulling Kenton to within two points at 52-50 with 41 seconds to play in the game. Celina quickly inbounded the ball after the Mauk three and caught the Wildcats sleeping on defense as Nate Bihn rushed up the floor for a layup to put the Bulldogs back up by four points with 34 seconds left in the game.
Kenton turned the ball over on its next possession when Mauk was called for an offensive foul on an illegal screen and then Moeder and Waterman each canned a pair of free throws to seal the win for the Bulldogs.
Mauk led Kenton with 17 points while Heydinger had 12 points and Max Morrison 10 points.
John Homan joined Waterman in double figures for Celina with 12 points.
Celina fans have been hoping for a rematch against Elida ever since losing at the Elida Fieldhouse by one point (67-66) on Feb. 12 after leading by 16 points in the third quarter.
WBL Player of the Year Reggie McAdams leads the way for Elida scoring over 17 points per game and the sophomore standout scored 25 points against Celina in their first matchup.
TICKET INFO - Presale tickets for Celina's district final game on Saturday night against Elida will be on sale in the High School Athletic Office on Thursday and Friday from 7:30 a.m. to 2:45 p.m. and on Thursday evening from 6 p.m. to 7 p.m. Celina receives 20 percent of presale tickets sold.