Saturday, March 13th, 2010
Indians shine in rematch win over Cardinals
Division IV Boys District Championship at Wapakoneta
By Gary R. Rasberry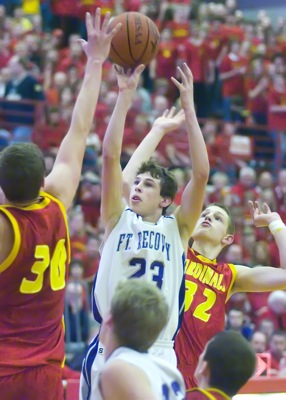 WAPAKONETA - The first time around, Fort Recovery got out to a big lead on New Bremen, but could not hold on as the Cardinals won by three points.
Friday night, the Indians were not going to let that happen again.
Fort Recovery got out to a 10-point lead early and did not let New Bremen get closer than four points the rest of the way to capture the Division IV Wapakoneta District championship with a 44-32 win in front of a sold-out Wapak Gymnasium.
The win moves the Indians (20-3) into their first regional since 1999 on Tuesday night at 5:30 p.m. against 15-9 Lockland, winners of the University of Dayton District final on Friday night with a 59-36 win over Franklin-Monroe. The Cardinals end a great season at 19-4.
The first meeting of the teams, three weeks ago, saw Fort Recovery hold New Bremen to four first quarter points, only to have the Cardinals come back to take a 50-47 win.
"We told our kids coming in that (New Bremen) was the favored team. They beat us on our home court," said Fort Recovery coach Brian Patch. "I felt like the team that handled the pressure and atmosphere in here was going to be the team that won. We told our kids they had nothing to lose and leave it all on the floor, play hard, have no regrets and enjoy the moment. When you're not the favored team, you have nothing to lose. The pressure's on them a little bit. That's how we tried to portray it the last couple days."
Friday started out the same way, as Greg Kahlig scored 11 of the Indians' 13 first quarter points, making his first four shots of the game as the Indians jumped out 13-3.
"We talked about attacking early and still be patient and get our stuff," said Patch. "We wanted to be aggressive and not shy away from them. Greg came out on fire and obviously was feeling it and hit some tough shots. When he's doing that, that makes us a totally different team offensively.
"Really, the only difference in the game was number 32 (Kahlig). ... He just took the game over from the opening tip," said New Bremen coach Mike Ernst, whose team was looking to get back to the regional for the first time since 2006. Put us in a hole. That's where it stayed the whole game."
New Bremen tried to come back, cutting it to 13-6 at the end of the first quarter and getting as close as 17-13 midway through the second quarter, but as New Bremen edged closer, Fort Recovery used turnovers - seven by New Bremen in the first quarter - and good ball control to push the lead to 26-18 at the half.
"The key of the game was we got them out of their zone defense and make them go man," said Patch. "That's something they're not comfortable doing a whole lot, playing those three big guys (Justin Eilerman, Caleb Williams, Clay Heitkamp) in man situations. I think it was helpful for us because we got all three off the baseline and on the perimeter. That helped with some other things."
Defense took control in the third as the teams combined for just 13 points, but Fort Recovery matched every New Bremen try to get closer, taking a 33-24 lead.
Even with Kahlig picking up his fourth personal foul midway through the fourth quarter, the Indians continued to deflect every attempt New Bremen made to get back into the game. Kahlig was 5-of-6 from the foul line in the final quarter and Cody Fiely and Wade Gelhuas each made clutch baskets to allow the Indians to pull away.
"We could whittle it down to six or seven, they'd push it up to 13 or 14," said Ernst. "It was basically that first 3-4 minutes (of the game). (Kahlig) hit some tough shots. There isn't many kids who can make that shot."
Fort Recovery attempted just 22 shots on the night, but hit 12, including 5-of-9 from the three-point line. New Bremen struggled, hitting just 12-of-37 (32.4 percent) and 2-of-15 from the three-point line.
"As good as Kahlig was, we just came out really ... I don't know the right word," said Ernst. "We was ready to play maybe a little too much. We had some many unforced turnovers that helped contribute to us falling behind. They were scoring points and we weren't getting shots. That makes it tough because they're a tough team to play from behind.
"We got away with it one time (the win in the regular season), but they're a tough, tough team to play from behind. That really wasn't what we had in mind."
Kahlig paced the Indians with 21 points and seven rebounds. Fiely added nine points with Craig Tobe scoring eight.
Justin Eilerman finished a stellar career for the Cardinals with 13 points.
Ticket Sales: Fort Recovery will sell tickets for Tuesday's game Monday from 7:30 a.m. to 7 p.m. and on Tuesday from 7:30 a.m. to noon in the high school office.
All presale tickets are $6 and will be $8 at Trent Arena in Kettering. The school asks fans to purchase tickets in advance as the school receives a portion of only the presale.