Friday, March 19th, 2010
Bulldogs one win from state after overtime victory
Division II Boys Regional at Bowling Green State University
By Ryan Hines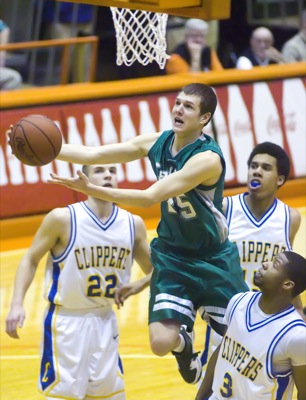 BOWLING GREEN - The magical postseason run for the Celina boys basketball team continues.
Celina rallied from an eight-point deficit in the fourth quarter to force overtime and then dominated play in the extra session for a 54-45 victory over Lorain Clearview in a Division II regional semifinal at Anderson Arena on the campus of Bowling Green State University.
"Survive and advance is a great strategy in the postseason, and that's what we did tonight," said Celina head coach Chris Bihn. "There is no ugly win at this level, you just want to advance to the next game. Right now I am on cloud nine. It's a great place to be. Getting here is a tremendous feeling. They've worked hard to get to this point and they've earned it. Just feel great for the kids."
The Bulldogs (16-8) now advance to the regional finals for the second time in school history on Saturday afternoon at 3 p.m. and will take on unbeaten Port Clinton (23-0), which knocked off Defiance, 45-43, in Thursday's second regional semifinal at BGSU. The only other time that Celina played for a regional title came during the 1971-72 season when the Bulldogs advanced to their only state tournament appearance.
Reaching the regional final didn't look good for Celina to start the fourth quarter as Clearview's Anthony Hitchens made a steal and then went coast-to-coast for a layup for a 41-33 Clippers lead with 7:38 to play in regulation.
Clearview then got impatient on the offensive end of the floor and Celina took advantage as Darin Waterman made a steal and drove in for a layup followed by two free throws from Scott Moeder and then another steal and layin for Waterman that cut the deficit to 41-39 with 1:59 to play.
"There were a few turnovers and we had a few empty trips in a row there and that helped Celina make their run," said Clearview head coach John Szalay. "We were stuck on 41 for a long time and that was the key to the ball game."
A Kyle Baughman bucket at the 1:36 mark put Clearview back up by four points, but Kahl LaRue buried two free throws with 1:23 to play to pull the Bulldogs back to within two points at 43-41.
Baughman was sloppy with the ball on Clearview's next possession and Waterman forced the turnover giving the ball back to Celina with under a minute to play before Moeder stepped to the free-throw line with 53 seconds on the clock and calmly drained two free throws to tie the game at 43-43.
Clearview's Tony Williams had a chance to put his team back on top, but missed the front end of a one-and-one opportunity at the charity stripe with 47 seconds on the clock. Waterman was called for an offensive foul on Celina's next possession on a drive to the basket and Clearview missed its chance to win the game in regulation when Baughman's 17-foot, double-clutch running jumper hit off the rim at the buzzer.
It was all Celina in the four-minute overtime and LaRue ignited the Celina spurt in the extra session with a layup and then a three-point play that put Celina on top 48-43. It was the first time that Celina led in the game since a 19-17 advantage at the 7:23 mark of the second quarter.
"I think that we had a little bit of a mismatch on the inside after Eric Thompson fouled out and our guards did a good job of recognizing that and Kahl got the ball and was able to convert against a smaller player," said Bihn. "He did a great job of posting up, catching the ball and then finishing."
Hitchens then scored for Clearview on a beautiful drive to the basket, but then the Clippers' chance at winning the game took a major hit when Baughman was called for his fifth foul and then drew a technical foul with 1:26 to play in overtime.
Homan made one-of-two free throws for the original foul and then Waterman sank a pair from the charity stripe for the technical. Because of the technical, Celina retained possession of the ball after the free throws and Waterman was later fouled and made both free throws for a 51-45 Bulldogs lead.
"The game really swung there," said Szalay of the technical foul by Baughman, which was the first of the season for Lorain Clearview. "I think that we got a little frustrated there. Kyle just lost his cool there a little, I don't think he was demonstrative, but he must have said something."
"That was a big point," said Bihn. "It was his fifth foul too and they are a different team without him on the floor. We did a good job of sticking the free throws after the technical and it was a big turning point in the game."
Clearview was clearly distraught after the five-point swing and Celina finished the game with another pair of free throws from Waterman and one from Nate Bihn as the Bulldogs picked up the nine-point win after outscoring the Clippers 11-2 in overtime.
"Hard-fought game tonight and both teams played extremely hard," said Bihn. "I think that we wore them down a little at the end of the fourth quarter and helped us pull away in the overtime. We went a little deeper on the bench and I think that helped us."
Waterman finished with a game-high 20 points while Bihn added 12 points.
Hitchens, who is a Michigan State football signee, led Clearview with 19 points to go along with eight rebounds and seven steals. Williams added 13 points for the Clippers.

TICKET INFO - Tickets for Celina's regional final at BGSU on Saturday will be sold on Friday from 6 p.m. to 7:30 p.m. and on Saturday from 9 a.m. to 10:30 a.m. with a limit of two tickets person for the general public. All tickets are $6 presale and all tickets are $8 at the door.