Monday, March 22nd, 2010
Cinderella run over for Celina
Bulldogs fall just one win short of reaching state tournament
By Ryan Hines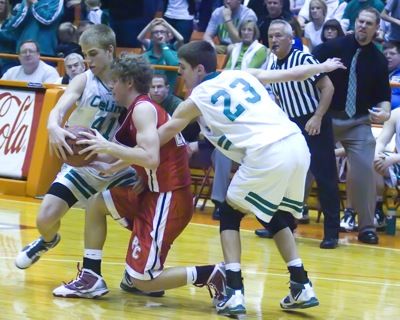 BOWLING GREEN - The clock finally struck midnight on the Cinderella run by the Celina boys basketball team.
Unbeaten Port Clinton's goal of making the state tournament came to fruition on Saturday afternoon after the Redskins used a lethal inside-outside combination on offense to beat Celina, 66-55, in the Division II regional final at Bowling Green State University.
Port Clinton (25-0) advances to its first state tournament in school history and will take on Zanesville (17-6) at 8:30 p.m. on Thursday night in a state semifinal contest, following the other semifinal matchup featuring Cleveland Benedictine (22-4) and Dayton Dunbar (23-3). Celina ends its magical run in the postseason and finishes with a record of 16-9. It's the most wins for a Celina boys team since the 2003-04 season (18-5).
The Redskins rode their inside-outside offensive balance to perfection in beating the Bulldogs.
All-district players Ryan Hicks and Josh Francis were the inside muscle for Port Clinton while Cory Brown gave the Redskins the spark they needed from the backcourt.
Hicks, the northwest district co-Player of the Year who eclipsed 1,000 points for his career in the first quarter, scored a game-high 19 points and had six rebounds while Francis had a double-double with 17 points and 11 rebounds. However, the thorn in the side of Celina came from Brown, who hit 4-of-8 from three-point range and scored 18 points for the Redskins.
"We've seen that he shot the ball pretty well early in the season, but he has struggled here recently and we weren't overly concerned about him shooting, we were more concerned with their two big guys inside," said Celina head coach Chris Bihn. "Their bigs were our number-one goal, but he (Brown) was able to knock down some shots. They are very hard to guard when they can hit the outside shots like the Brown kid did today."
Brown's play was somewhat surprising, considering that he struggled of late.
"It felt so good to light it up in a big game like this," said Brown. "I've been off for a while and it just felt great. Lately, I've felt some pressure because I have been off, but once I hit the first one, it was like a weight had come off my shoulders and I could just play."
Brown came up big for the Redskins in the closing minute of the first half, when Port Clinton was clinging to a one-point lead at 25-24. Francis was double-teamed in the post as the clock just went inside of one minute to play in the first half and he fired a pass out to Brown on the wing and the Redskins' senior guard buried a trey to make the score 28-24 with 58 seconds before halftime.
Celina got a deuce from John Homan to pull the Bulldogs back to within two points at the 29-second mark, but Brown struck again for the Redskins just before half as he banked in a high-arching three-pointer from the left wing just before the halftime buzzer with Port Clinton in front 31-26.
It was a big second quarter for Brown who scored 11 points in the quarter and a total of 13 in the first half.
Port Clinton head coach Troy Diels knows how much Brown's scoring meant to his Redskins.
"We have to have inside-outside balance, it's a must for us," said Diels. "We expect our big guys to get theirs for us to play the way that we are capable of playing and we need our guards to contribute offensively as well. Cory's perimeter shooting gave us a big lift."
Port Clinton added to its lead with a strong start to the third quarter. The Redskins scored 12 of the first 15 points of the third quarter and Port Clinton took its biggest lead of 14 points at 43-29 with 3:21 to go before the final quarter.
The Redskins' one-two inside punch accounted for all of the scoring for Port Clinton during the third-quarter surge as Hicks had seven points and Francis five.
"They hurt us out of man and zone with their big guys," said Bihn. "They had a nice high-low game going and they beat us on baseline penetration a few times. They were very effective on the baseline and work well together. That's their bread and butter on offense. Nice combination."
The big run didn't bury Celina, though, as the Bulldogs got hot to end the third quarter and went on a 10-2 run to close the deficit to just 45-39 with just eight minutes to play in the game. Greg Riemesch scored four points and Homan converted an old-school three-point play to spark the run.
Kahl LaRue made a nice power move inside for two to help Celina pull to within four points early in the fourth quarter at 45-41, but Port Clinton then reeled off a 10-2 run that put the Redskins back up by 12 points at 55-43 with 3:32 left in the game. Celina never pulled closer than 10 points the rest of the way.
"We have all talked about making it to state since we were kids and to be able to accomplish that goal feels great," said Francis. "The community has really supported us the whole way and I think that it has helped push us to where we are."
The Port Clinton offense paved the way for the regional title, but the defensive effort on Celina's Darin Waterman was a big key as well. Waterman had eight points in the opening quarter, but was held to just three more points in the final three quarters. Waterman hit his first three shots and finished the game 4-of-15 from the floor for 11 points, his lowest point total of an incredible postseason that saw him score 26, 28, 20, and 20 in the other four tournament contests.
"We cut off lanes better as a team after the first quarter," said Diels about the Redskins' defense on Waterman. "They hit us off a couple of curls off screens in the first quarter and they hit us hard off of some penetration early, but I think that we closed those gaps up. Derek (Colston) did a terrific job of guarding him tonight."
"Colston got up on me quickly and stopped my penetration and I wasn't able to get to the hole very easily," said Waterman. "When I was able to get to the paint, they had all their other guys there waiting."
While falling one win shy of the state tournament is sure to be a big disappointment for the Bulldogs, reaching the regional tournament for the eighth time in school history is something Celina can be proud of.
"I think that the big thing for our tournament run is that our guys got their legs back and our leaders used chemistry to get better," said Bihn. "Our legs disappeared on us midway through the year, but I think that we got them back for the tournament and were able to play our style and have a nice run."
Added Waterman, "We kept the ball moving and played as a team," said Waterman of the tournament run. "We got it inside and got everyone touches, hit shots and played good defense. It was a nice run we had."