Tuesday, March 30th, 2010
Bulldogs impressive in first match
By Gary R. Rasberry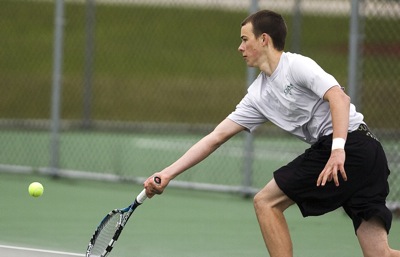 CELINA - With weekend rain knocking off most of the opening day schedule for baseball and softball on Monday, the Celina boys tennis team highlighted the local sports slate, opening the season with a 4-1 win over Sidney at the High School Courts.
In the four wins on the day, Celina dropped just four games to the Yellow Jackets.
NetDogs coach Jan Morrison was happy with the way her team played in the opener.
"That's what we've been working on: consistency and getting serves in," said Morrison. "They did a nice job of that today."
The first doubles team of Ryan Rutschilling and Tyler Everman posted a perfect day, beating Sidney's Jarrrett Brulport and Brett Rowley in matching 6-0 sets.
The second doubles team of Eric Muhlenkamp and Justin Wenning gave up a consolation game in the second set to Donovan Gregory and Conner Kleman before winning 6-0, 6-1.
"The doubles teams did things well," said Morrison. "We're happy to have the win."
Jake Remington's first career varsity match was a dominating one, beating Gage Woolley 6-0, 6-1 in third singles.
"That was Jake's first varsity outing and he did a nice job," said Morrison.
Bryan Robbins was strong in his season opener at second singles, defeating Dan Temple 6-0, 6-2.
The lone loss of the day came in first singles, as Adam Turner battled before falling 3-6, 0-6 to Austin Folck.
"Adam had a pretty tough match here today," said Morrison. "It seemed like he never got into his rhythm. I thought Bryan Robbins played very well. Served well and got to the net well."
Celina also swept its junior varsity matchups. Winners included Trevor Smith and Trevor Kriegel in singles while the doubles teams of Alex Roth and Long Nguyen, Nick Rose and Jeremy Walls and Najeeb Memon and Justin Hoffman posting wins.
Celina takes to the road for the first time today, traveling to Collett Street in Lima to face Lima Central Catholic. Western Buckeye League play begins Thursday as the NetDogs travel up to Elida.
Team Tournament: Celina take part in the Ohio Tennis Coaches Association State Team Tournament this season. The NetDogs open tournament play on Friday at 10 a.m. against Clyde at the High School Courts.