Friday, March 5th, 2010
Francis leads the charge for Celina
Division II Girls District at Paulding
By Mark Ruschau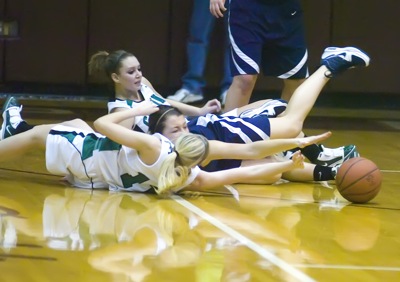 PAULDING - The Celina Bulldogs used a solid defensive effort and great shooting to post a 56-45 win in Division II district semifinal action over the Napoleon Wildcats on Thursday night at Paulding High School.
With the win, the Bulldogs take a 17-7 record to the district final game on Saturday night at 7 p.m. against the Wauseon Indians (20-3), who defeated the Bath Wildkittens, 60-51, in the other semifinal game on Thursday evening.
The Bulldogs shot the ball well all night long, connecting on 57 percent from the field for the game, 23-of-40, including 6-of-10 from three-point range. Celina also took good care of the basketball turning it over just 12 times, including just five times in the first three quarters.
The Bulldogs used an early outside-shooting barrage from senior guard Candra Francis to get things going offensively. Francis came out and hit her first three shots, including a pair of three-pointers as she scored 12 of her game-high 22 points in the first half.
With Celina hitting five three-pointers in the first half, it drew Napoleon out of its 2-3 zone and opened things up on the inside for Celina senior forwards Cenzie Yoder and Abbey Welker. Yoder hit on 7-of-10 shots from the floor and scored 16 points. Welker added eight points on four-of-five shooting.
"Candra had a great shooting night, she is capable of doing that. She has had a couple of nights like this before in her career," said Celina coach Brian Stetler. "Candra has been struggling with her shooting the last couple of games and it is good to see her have it back tonight. She got us off to a great star and it got them out of their zone pretty early. If you are going to win big games, you are going to have to have someone come out and hit some outside shots and Candra did a great job of doing that for us."
"Candra's outside shooting did a great job of opening things up on the inside for Cenzie," continued Stetler. "Even to the start the second half they came out in a zone but Candra came out and hit a couple more shots and it indeed opened things up for Cenzie."
"We did a poor job of defending their best outside shooter and she did a great job of hitting some shots early," said Napoleon coach Rod Hersha. "Cenzie Yoder has a great court awareness and they did a great job of getting the ball to their good shooters and that was the ball game."
As well as the Celina offense performed, it was the defense that allowed the Bulldogs to pull away. In the opening period, Napoleon hit on just 6-of-16 from the field, but they were able to score on seven of their 12 possessions in the period.
After the first period, the Celina man-to-man defense clamped down on the 'Cats, holding them to just 14 points in the middle two periods which allowed the Bulldogs to blow the game open. In the middle two periods the Wildcats connected on just 5-of-24 shots from the field.
"I thought our girls did a good job of extending the defense," said Stetler. "Their number 30 (Megan Zachrich) had her way in many ways early in the game and so we had to change some things from our original game plan as we went to our zone. Our original plan was to play man but they did a good job of getting the ball inside, so I thought we needed to try something different and the girls did a good job of executing after the first quarter."