Monday, March 8th, 2010
Area residents learn syrup making and its sweet reward
By Margie Wuebker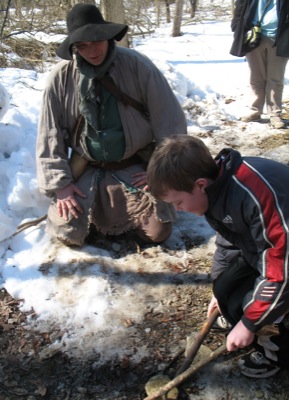 GREENVILLE - Sunny days and cold nights. That's the ideal weather for maple sugaring at the Shawnee Prairie Preserve Nature Center, part of the Darke County Parks.
Visitors learned about the process during programs Saturday and Sunday at the 118-acre site located off state Route 502. Another 200 or so elementary school students from throughout the area will visit during the coming week.
Senior park naturalist and tour guide Robb Clifford explained black maple and sugar maple trees produce sap containing 2 percent sugar and 98 percent water. Silver and red maple trees also yield sap, but with a lesser sugar content.
Warm, 40-degree days are needed to thaw the sap and create a positive pressure starting in the twigs and moving to the roots of the maple tree. Freezing nights create a negative pressure that sucks water from the ground into the roots and trunk, increasing sap volume.
The tree must be of sufficient size for tapping or placing no more than three wooden or metal spiles at various points around the trunk. In a good year with ideal weather conditions, one tree yields 6 to 10 gallons of sap during the collection season.
"Maple syrup is the epitome of a natural product," Clifford said. "However, it is not cheap because it takes 40 gallons of sap and a lot of work to make just one gallon of syrup."
The Iroquois Indians are credited with discovering maple syrup. According to tribal legend, a Native American named Woksis and his family were winter camping in a grove of maple trees. He stuck the blade of his tomahawk into one of the trees lest it become lost overnight in the falling snow. The next morning Woksis removed the tomahawk and went hunting.
The women, who normally carried water from a nearby stream to the campsite, had placed a vessel near the tomahawk and discovered it was filled with a clear liquid. They cooked stew in the liquid that night and discovered the gravy became very thick with the best flavor they ever tasted.
"The Indians traced the mystery of the wonderful flavor back to the liquid found under the tree and finally to the wound in the tree," Clifford said. "They cooked the sap until it became syrup and then continued the process to the maple sugar stage."
According to park Director Roger Van Frank, three groups of Shakers passed through the Darke County area known as Prophetstown in the early spring of 1807, and stopped to watch local Indians cooking sap into syrup and sugar.
Chris Supinger, who portrayed an early resident during the tour, explained the Indians heated stones and carefully placed them into vessels containing sap.
"It was a long and tedious process," Supinger admitted while allowing youngsters to move cold stones with two-pronged sticks. "But they did it in an effort to add some sweetness into their lives."
Pioneers also adopted the annual ritual from February through early April, advancing the process from hot stones and bark lined vessels to copper and cast iron cooking kettles suspended over hot coals.
More improvements came, such as pioneers learning that the tapped trees healed faster when small holes were used instead of tomahawk chops.
The park district has taken a giant step toward modern times with the addition of a wood-fired evaporator, where sap goes through a series of filters eliminating the likelihood of impurities. The rich amber color develops gradually as the liquid bubbles, and Van Frank expressed hope the park will see 150 to 200 gallons of syrup by season's end.
Located in the midst of an oak/sumac forest, the park system and the Friends of the Park bring in sap from three area farms. The homemade evaporator, donated by Darke County residents Larry and Sally Amspaugh and Jim and Karen Hummel, occupies the center of a wood cabin built through the efforts of volunteer labor.
The final stop on the tour is a rustic log house where volunteers such as former St. Henry residents Karen and Kim Droesch ply visitors with samples of johnnycake, boiled tongue, pinwheels, pickled tongue and freshly brewed tea. Karen Droesch is a dietitian and diabetes educator at Wayne Hospital in Greenville while her sister teaches fourth grade at Marion Local Schools.
They are not the only link to Mercer County, visitor Tom Marchal explains. An old log house, formerly owned by members of the Stachler family along Fort Recovery-Minster Road near Cranberry Prairie, became one of several cabins donated to the park system over the years.

Recipe:
Blueberry Bread Pudding with Maple Sauce

2 cups whole milk
11/2 tsp. vanilla extract
1/3 cup plus 2 tblsp. sugar
7 cups heavy bread (cut into 1-inch cubes)
3 large eggs
2 large egg yolks
11/2 cups unsweetened blueberries

Maple Sauce
1 cup half and half
1 teaspoon cornstarch
3 egg yolks
1/4 cup pure maple syrup
2 tablespoons sugar

For bread pudding: Preheat oven to 325 degrees. Butter 8-inch square pan. Whisk milk, sugar, eggs, yolks and vanilla in bowl. Place half the bread on bottom of dish. Top with half the blueberries. Pour half the custard over. Top with remaining bread and blueberries. Pour remaining custard over the top. Let stand 15 minutes, occasionally pressing on bread. Bake until pudding puffs and top begins to brown, about 1 hour and 15 minutes.
For maple sauce: Bring half and half to simmer in heavy pan. Whisk egg yolks, sugar and cornstarch in a bowl. Slowly whisk the half and half into the egg mixture, then return to pan. Stir over medium heat until custard thickens and leaves a path on back of spoon, about 3 minutes. Do not boil. If lumpy, strain into bowl. Mix in maple syrup. Spoon servings of bread pudding into bowls and drizzle maple syrup on top.