Monday, March 8th, 2010
Welker goes beyond wildest dreams
Mercer Country trio wraps up stellar seasons, careers
By Gary R. Rasberry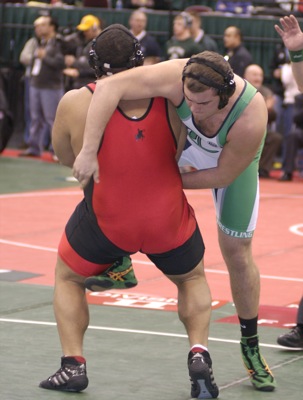 COLUMBUS - Codey Welker was in the perfect position for a storybook finish at the 2010 State Wrestling Championships.
The Celina grappler's opponent in the Division II 285-pound seventh-place match was the wrestler who beat him in his first match of the tournament, Ian Jones of Plainesville Harvey.
Although Welker was unable to get Jones back for the loss, as Jones scored the pin in 2:46, Welker is still happy with his effort, earning him All-Ohio status with an eighth-place finish in the tournament.
"He was a big kid," said Welker, who ends his season at 36-10. "It's kind of hard weighing about 240 and I have to wrestle the kids who weigh 280. That's a huge challenge."
On Friday, Welker talked about making it to state being a dream since entering seventh grade and wrestling. Now that the dream came true, and making it to the final eight and earning podium status, Welker is glad to have made it.
"A couple of weeks ago, I wouldn't have thought this would happen," said the MatDog senior, who compiled a career record of 94-51. "Last week, I was hoping I wouldn't come in and go two-and-out (in the double elimination tournament). Just so glad I could make it.
"I couldn't ask for any better results with what happened. (It would) be nice to get first."
Welker joins a group of Celina wrestlers that placed that doubled over the weekend. Welker becomes the second heavyweight wrestler to earn a spot on the podium. Rob Eyink placed fifth in 2003.
"It's so awsome (Alex) Dues and I were able to place at the same time. First time ever (two Celina wrestlers placed in same tournament)," said Welker. "I can't explain."
Welker was awed a bit by the crowd, which averaged over 12,000 the first two days, watching at the Schottenstein Center. Until the action starts.
"I'm walking out to the mat and see all those people and it's crazy," said Welker. "Once I get on the mat, it's pretty much me and the other guy. I don't even think about the people. I just don't believe looking up and seeing all the people watch high school wrestling, it's unbelievable."