Friday, April 2nd, 2010
Parkway students helping children in Haiti
By Janie Southard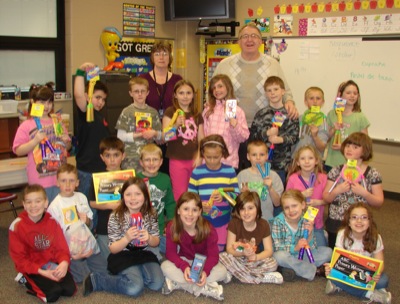 ROCKFORD - Parkway second-graders learned about the problem and wanted help. So they sent questions to a teacher in Haiti, and she responded with information about the devastating earthquake Jan. 12, and the students began rounding up supplies to send to the Caribbean island.
"We read about the children of the Haiti earthquake in the magazine, 'Time for Kids' and became interested in how we could help. As it happened, our class aide, Mrs. O., (Lisa Obringer of Coldwater) has a cousin, Jo Martineau, who is a teacher/administrator in a mission in Haiti," second-grade teacher Art Bader said recently, as he opened a large colored box of jump ropes, toothbrushes, school supplies, etc., bound for the Caribbean island.
The class wrote letters about themselves to send to the Haitian children and put together a list of questions for Martineau, who quickly responded with lots of information.
"The earth roared and groaned. It was terrifying. I held on to the walls and was pushed back and forth," she wrote via e-mail to the class. "It was almost like a train roaring on train tracks."
Four students at her Mission of Hope school were killed when the earthquake caused the cement blocks of their homes to fall. Other students had broken bones, cuts and bruises.
"Our buildings were not hurt. The high school building is being used as a hospital right now (early February) ... In the area where my house is, a lot of walls are down ... There is debris everywhere. Imagine four-story buildings falling down," she wrote.
Many people have come together at Parkway to get supplies to the children at the mission school. Obringer said this week that the boxes of supplies have grown a lot just during the past few days.
"We have pencil grips, pencils, paper, erasers, posters and toys like jacks, dominoes, dice - well, a lot more. Plus we've had donations from Dr. Ben Wenning of Coldwater Dental and from the CCD class at Holy Trinity Catholic Church (Coldwater)," she said.
Both Obringer and Bader spoke particularly about the generosity of Eric White, whose daughter, Ashlyn, is in Bader's class. White works for GKN Freight Services in Van Wert, and has helped pack and ship boxes to Haiti with no charge to the local school.
Bader said his class is "still celebrating Mr. White's kindness." He also is "very thankful for the students' concerns and willingness to work on this project."

Love at first sight:
Ohio City native Joan Brubaker Martineau arrived in Haiti in 1969 after graduating from the University of Findlay. An admitted victim of "love at first sight," she cannot imagine living anywhere else.
"I came as a teacher and I stayed," she wrote in an e-mail to the newspaper this week.
She found it difficult to find the words to describe Haiti today.
"Little really has changed. Daily I feel I am in a cemetery; the rubble remains and under the rubble are bodies.
"The living conditions for the survivors in the tent cities are deplorable," she wrote. "We have lost so much, families, friends ... We have lost buildings, schools, offices, banks gas stations - the list goes on and on."
Martineau arrived in Haiti to serve with the Ohio City Church of God's mission, Project HELP. Later, she met a Haitian banker, Gerald "Nicko" Martineau, and they married in 1972. She has two daughters and a grandson.
She served at Quisqueya Christian School, an international American school, for 30 years in many capacities: teacher, chaplain, dean of students, principal and finally as director.
In her more than 40 years in Haiti, Martineau has become no stranger to unexpected challenges. She has survived hurricanes, 14 coups d'etat, a military invasion, an embargo, and acted as mediator in a kidnapping.
She is now involved in writing a Christian school curriculum, entitled Mwen Kapab (I Can), already in use by many schools.
Mission of Hope, where she has worked since 2006, has a school that serves 1,300 students with a five-mile radius of the small town, Titanyen. The school closed after the earthquake. The reopening is planned for Monday.
For further information on Mission of Hope or to help, see www.missionofhopehaiti.org.