Saturday, April 17th, 2010
Phone forum to offer support to caregivers
By Shelley Grieshop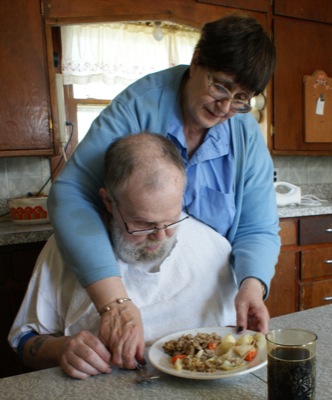 WABASH - Kathleen Montague lifts two small cake pans from the oven as the smell of chocolate fills her modest kitchen.
It's Wednesday, her day to bake cakes, she said.
"Every day I do something different to help Philip remember what day it is," she said, with a look of exhaustion on her face. "It doesn't seem to be helping much anymore, but I still do it."
Philip, her husband, was initially diagnosed with dementia, a disease associated with memory loss. But now, at 68, he has "full-blown" Alzheimer's disease, Kathleen said.
"Follow my voice, just follow my voice, Philip," she told him as he slowly made his way from the living room to the kitchen of their Wabash-area home.
His head down, he shuffles a few feet then forgets where he is heading and why.
"I've been doing this for four years," Kathleen said of her role as caregiver. "Some days I don't want to get out of bed. The longer this goes on, the worse he gets."
Kathleen is among a growing number of individuals who daily care for people with Alzheimer's disease or related illnesses. With limited income and insurance benefits, many Americans find themselves in the role of around-the-clock nurse.
A new program sponsored by the northwest Ohio chapter of the Alzheimer's Association could bring hope to caregivers who have little time to attend support meetings. The agency is offering a free monthly phone forum in a conference call setting. Caregivers can dial in from home, receive information and share concerns and tips with others in similar situations.
The first forum is 7-8 p.m. Thursday.
"Caregivers infrequently receive breaks," said Renee Palacios, director of communication and development for the Alzheimer's Association chapter in Toledo. "They often provide care 24 hours a day so it's hard for them to get away."
The program also offers anonymity to those seeking help, she said.
"Sometimes it's embarrassing for people to talk about," Palacios explained. "It's not something everyone likes to discuss openly with others."
Alzheimer's disease is a brain disorder named for German physician Alois Alzheimer, who first described it in 1906. It is a progressive and fatal brain disease currently afflicting about 5.3 million Americans, according to the National Alzheimer's Association.
The disease is cruel; it destroys brain cells, causing memory loss and problems with thinking and behavior that are severe enough to affect every aspect of a person's life.
"Right now, it's the seventh leading cause of death in the U.S.," Palacios said. "Every seven seconds somebody is diagnosed with the disease."
Besides the devastating mental effects, Alzheimer's often causes a financial burden because patients can live with the disease for up to 20 years. It currently ranks as the third-most expensive disease in America, Palacios added.
Kathleen said she intends to give the new phone forum a try.
"I feel like I want to talk to someone. I used to go to Alzheimer's meetings when Philip was a resident at Shane Hill (Nursing Home in Rockford)," she said, adding she's had little opportunity to go since she began caring for him at home.
She'd like to learn how to deal with her husband's behavior, she said. Almost daily he performs spontaneous actions like removing his clothing and tossing pieces around the room. Then there are times when he becomes lost wandering around the home they've shared for years, she said.
"Yesterday, he tried to sit in a chair and missed," she said. "He ended up falling into the trash can and hurting himself. ...Today's another bad day."
Caring for a person with Alzheimer's is like baby-sitting a small child, Kathleen said.
"But kids learn. He can't learn anymore," she added.

Help for caregivers:
What: A caregiver phone forum
When: 7-8 p.m. Thursday
Why: To share tips for managing and reducing stress on caregivers
Cost: Free
Participants can dial into the forum from home or any location or follow along on the Internet. Registration is required to receive a passcode. Call 866-644-4944 9 a.m.-7 p.m. Mondays through Fridays.
The phone forum is sponsored by the Alzheimer's Association and will be held monthly for caregivers or others with related concerns. The next forum is 7-8 p.m. May 20; the topic is suggestions for keeping Alzheimer's patients active and involved.